India Mulls Extension of Parboiled Rice Curbs Ahead of Key Polls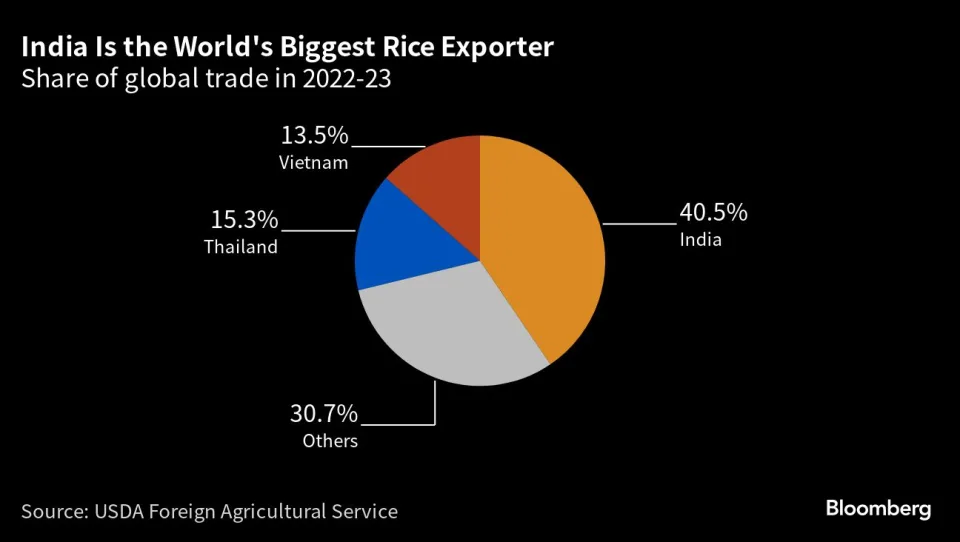 India Mulls Extension of Parboiled Rice Curbs Ahead of Key Polls
(Bloomberg) — India, the world's top rice exporter, may extend an export levy on parboiled rice to control local prices ahead of key polls, keeping the market tight and raising the risk of higher global food inflation.
The government is considering an extension to a 20% export levy, which is due to expire on Oct. 15, according to people familiar with the matter who asked not to be identified as the talks are confidential. There are no plans to raise the tax to 40%, as speculated by some market participants, they said.
India ramped up its export restrictions on rice in late July, seeking to keep a lid on domestic prices ahead of some state polls next month and a national election in early 2024. The curbs led to an Asian benchmark surging to the highest level in almost 15 years, although prices have cooled recently.
A spokesperson who represents India's food and commerce ministries declined to comment. A finance ministry spokesperson didn't immediately respond to a request for comment.
Prime Minister Narendra Modi will seek a third term in office at the election next year and the government he leads has also restricted exports of sugar and wheat, and is selling grains from state reserves.
Retail prices of rice in Delhi have surged 22% from a year earlier, while wheat is about 12% more expensive, according to data compiled by the food ministry. There are concerns that production of some crops, including sugar cane, could fall due to patchy rains in major growing areas the year. Cumulative rainfall during the June-September monsoon season was the weakest in five years.
While rice prices in Asia have eased recently, there are lingering concerns about the potential impact from El Niño on production across the region. Any shortfall could spur a renewed rebound in prices and fuel inflation.
Elevated rice prices could hurt billions of people across the globe as the grain accounts for as much as 60% of the total calorie intake for people in parts of Southeast Asia and Africa. Many nations are still struggling to recover from the pandemic-led economic downturns.
India grows several varieties of rice, including parboiled, which accounts for about 30% of its total exports. The South Asian nation had a share of about 40% in the global trade in 2022-23.
https://finance.yahoo.com/news/india-mulls-extension-parboiled-rice-103011483.html
Published Date: October 11, 2023
More News