How rice is caught between a deluge and a deficit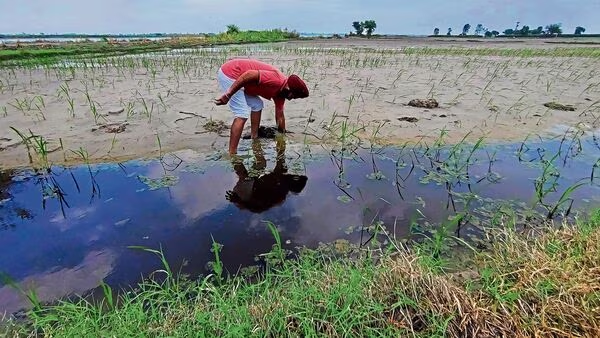 Paramjeet Singh, a farmer from Karnal, Haryana, checks the depth of sand deposited in a paddy field following floods (Sayantan Bera/ Mint)
KARNAL/AMBALA/NEW DELHI : You were so thirsty that you came here to get drowned. We warned you, but you did not listen," quipped the residents of Nabiabad. The pun was directed at Tejraj Singh, a farmer in his mid-50s, who relocated to Nabiabad in 2019. Singh chose the tiny village, close to river Yamuna in Haryana's Karnal, for a reason. The land was extremely fertile and water was in abundance. His former village in Sonipat district, some 80 kms away, was parched in comparison.
Singh took the joke in his stride and laughed aloud. Then, he said: "It's okay. It won't flood like this every year." Others seemed to agree. There is no option but to agree. Faced with a devastating flood which ruined a crop and is now threatening to swallow parts of the village, the residents of Nabiabad can only hope for better days ahead.
Earlier this July, a swelling Yamuna, bringing excess rain water from the hills upstream, flooded the village and neighbouring areas. The embankment was breached in multiple locations, the worst since 1978. The flood waters flowed several feet above the road connecting Nabiabad to the outside world. And when the waters receded, it left behind a trail of devastation—washing away month-old rice saplings and depositing a thick layer of sand and silt on farmlands.
"We do not have time left to clear the land to replant paddy," lamented Paramjeet Singh, another farmer from the village. The loss to farmers? ₹10,000 spent on saplings, nutrients, and labour for each acre of paddy planted. Plus, around ₹15,000 to clear the sand and silt to make the land cultivable for the next crop of wheat, planting for which begin end-October.
https://www.livemint.com/news/india/how-rice-is-caught-between-a-delugeandadeficit-11690821953804.html
Published Date: August 1, 2023
More News