How inflation made West Africa's prized jollof rice a pricey meal
Inflation driven by economic instability and the fallout from the war in Ukraine and COVID-19 have pushed the staple meal out of reach for many in West Africa.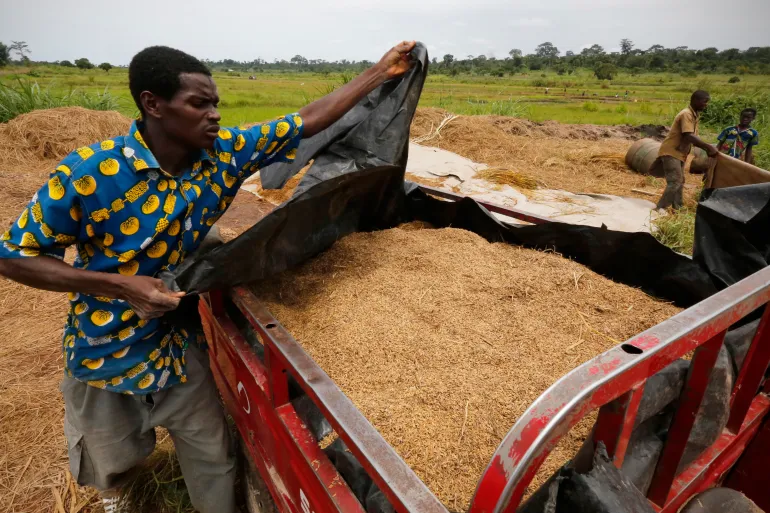 A man covers harvested rice in a rice field in Nanan, Yamoussoukro, Cote d'Ivoire [Thierry Gouegnon/Reuters]
For Nashirata* (last name withheld), breadwinner for her husband and three children, jollof rice, the beloved West African staple dish, is often a lifesaver.
Jobs are hard to come by in Accra, Ghana where she lives, so her high school teaching job is coming in handy until her master's degree in public health opens the doors to a better one. And on her modest salary, jollof rice – a simple meal of rice cooked with a spicy tomato and pepper base, seasoning and fish or meat – is often an affordable option for her family.
But now it is getting more expensive to cook.
On the eve of May Day, Nashirata's pot of jollof rice cost 80 Ghanaian cedi ($7.40), almost twice the regular cost. Still, it was one of the "plainest meals" she had ever made, she said, as she could not afford meat and other condiments at their current prices.
"If I looked at what I prepared yesterday," Nashirata told Al Jazeera, "I would have loved to add other ingredients. But what we are experiencing, we cannot really have what we want. You can only really make do with what you have."
Elsewhere in West Africa, in Lagos, the Nigerian commercial capital, the price of restocking monthly groceries has risen from approximately 40,000 naira last year ($86.80) to 80,000 naira ($173.61) today for Esther Louise, a mother of four.
And these days when she cooks jollof rice, she has replaced turkey – which has gone from 3,500 naira ($7.60) per kilogramme to 5,000 naira ($10.85) – with the considerably cheaper Titus fish. It now costs her approximately 8,000 naira ($17.36) to make a pot of rice, 30 percent up from 5,500 naira ($11.94) in April.
Since 2020, people across West Africa have been grappling with rising food inflation, as popular meals go out of reach for low-income households.
According to the Ghana Statistical Service, food inflation as of March stood at 50.8 percent. In Nigeria and Senegal, the rates have been considerably less, at 24.61 percent and 11.90 percent, respectively.
In crisis-hit Burkina Faso, food prices have also increased by 30 percent this year, according to the International Rescue Committee. In Mali, the Food and Agriculture Organization of the United Nations (FAO) projects acute food insecurity is expected to increase by 30 percent between June and August.
For low-income households across the region, these numbers translate into reduced food security, even as people's earnings largely stay the same.
"We all know that prices [of commodities] have, in fact, shut up astronomically compared to last year. You cannot even compare the two," Nashirata said
Import-driven economies
A recent survey by SBM Intelligence, a Lagos-based geopolitical consultancy, examines the rising costs of cooking a pot of jollof rice for an average family of five in several markets in parts of Nigeria and Ghana.
In 14 markets surveyed across Nigeria, the price increased between 2.9 percent and 14.7 percent, peaking at 13,150 naira ($28.54) between the third quarter of 2022 and the first quarter of 2023. Meanwhile, Nigeria's monthly minimum wage stayed at 33,000 naira ($71.61).
In Ghana, where the monthly minimum wage is 401.76 cedis ($37.18), a pot of jollof rice cost 287.5 cedis ($26.61), 294.5 cedis ($27.26) and 274 cedis ($25.36) in the first three months in Accra and 268 cedis ($24.80), 278 cedis ($25.73) and 274 cedis ($25.36) in Kumasi, respectively.
"The index underscores the fragility of the region's economies," said Ikemesit Effiong, head of research at SBM Intelligence.
And while underdeveloped agricultural and farming systems and inadequate policy support have long been noted as reasons for price inconsistencies, experts say the fallout from the COVID-19 pandemic and the Russia-Ukraine war have also contributed to the rise in food prices.
Like most of the African continent, West African countries are heavily reliant on grains, wheat, flour and, to a lesser degree, fertilisers from the Black Sea region, a key geopolitical axis that includes Russia and Ukraine.
According to a 2022 joint study by the Economic Community of West African States, the UN World Food Programme and FAO, almost half of the wheat flour imported into West Africa comes from Russia and Ukraine.
"The way West African economies have been structured, they are largely import driven," said Daniel Anim, chief economist at the Accra-based Policy Initiative for Economic Development."[It is] making it very difficult for the average citizen within the region to be able to afford goods and services.
"The disposable income of the citizens has been reduced due to the effect of the inflationary rate, and it is affecting the standard of living of the citizens to the extent that it might have an effect on the nutritional value of the citizens, which invariably will affect productivity," he added.
Beyond the global dynamics, ongoing political, economic and climate crises are also impacting economies in the region.
Mali and Burkina Faso have been experiencing violence by armed rebels for years, as well as multiple coups since 2020. In that period, there have also been attempted coups in Niger, Gambia and Guinea-Bissau as dissatisfaction with tackling insecurity persists and as the cost of living continues to rise.
Last year, acute flooding wiped out thousands of farmlands, killed more than 600 people and displaced 1.4 million others across Nigeria's food-producing states – after there had already been years of armed attacks against farmers by armed groups in the region. A botched currency swap earlier this year led to more inflation and hurt small and medium businesses, according to the World Bank.
Ghana is in negotiations with the International Monetary Fund for a $3bn dollar bailout. And as of December 2022, Nigeria's total public debt stocks were at $103.11bn.
Rising debt stock has also hampered economic growth in stable economies like Cote d'Ivoire and Senegal. In 2022, according to the International Monetary Fund, Senegal and Cote d'Ivoire are reported to have a debt-to-GDP ratio of 77 percent and 56 percent, respectively.
"If you take the West Africa subregion as an economic bloc over the years, it appears that the focus has been on addressing political issues as against economic issues outlined in the various protocols and documents aimed at growing the respective economies in the subregion," Anim told Al Jazeera.
'You have to manage'
Experts say the African Continental Free Trade Area (AfCFTA), designed to ease the movement of goods across the continent but yet to launch, could help halt declining food supply and increasing prices.
"The solution lies around the nature of access – access to capital on one side and access to infrastructure and market," Akinyinka Akintunde, president of Lagos-based commodities exchange AFEX, told Al Jazeera. "When land and finance are not available with insurgency on the land and [there is ] no access to finance because there is no subsidy in place because the government is not playing the role or there is no infrastructure to access it, then there will be high prices."
"If there is no seamless mechanism of getting produce at fair, transparent prices, the project is dead on arrival because the access to market has a lot of dynamics to it."
For regular people like Nashirata, having daily meals cost more than their means is a bitter experience. "Now," she said, "you cannot just go out and say you want to buy what you want, go home and prepare a meal for your family. You have to manage.
https://www.aljazeera.com/economy/2023/5/23/how-inflation-made-west-africas-prized-jollof-rice-a-pricey-meal
Published Date: May 23, 2023
More News