How India's ban on some rice exports is ricocheting around the world
India's decision to ban exports of some rice was based on domestic reasons, but it's had a global impact.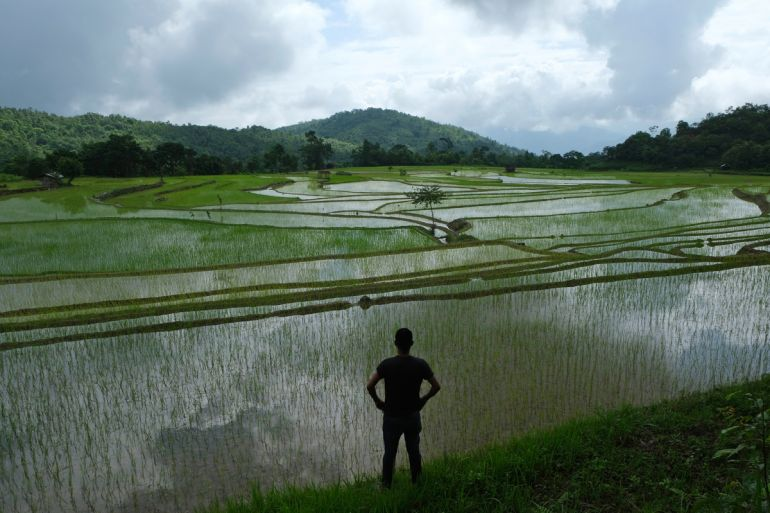 India is the world's biggest rice exporter and a cutback in that has a global impact [File: Yirmiyan Arthur/AP Photo]
Last month, three days after Russia pulled out of the Black Sea grain deal, India imposed a ban on July 20 on the export of non-basmati white rice. The move followed a ban on the export of broken rice, which was announced in September last year and is still in place.
India's reasons were domestic — rising food prices, high inflation and fear of rice shortage due to El Nino disruptions as the country heads into a festive season and elections — but the bans' impact is now being felt globally, with prices shooting up.
"Earlier rice was trading for $550 per metric tonne, now prices are hovering above $650," Nitin Gupta, senior vice president of Olam Agri India Private Limited, one of India's biggest rice exporters, told Al Jazeera.
Here's an explainer on India's role in the global rice market and how elections, climate change and El Nino are complicating rice prices.
The world's biggest exporter
India, the world's biggest rice exporter, accounted for nearly 40 percent of global rice trade in 2022, exporting 22 million tonnes worth $9.66bn to 140 countries. That included 4.5 million tonnes of basmati rice, 8 million tonnes parboiled rice, 6 million tonnes non-basmati white rice, and 3.5 million tonnes broken rice.
India continues to export parboiled and basmati rice, meeting its international commitments halfway, but global rice prices have increased by 15-25 percent since the ban. Worst hit are the poor in countries like Bangladesh and Nepal, who depend on Indian white rice, and those in African countries like Benin, Senegal, Togo, and Mali, which import broken rice — the cheapest and most filling variety.
International prices for grains had already shot up due to Russia's war on Ukraine. Prices have further rallied since Russia walked out of the Black Sea Grain Initiative, which would have allowed grain from Ukraine to reach world markets.
And now, in addition to India's rice ban is the fear that Thailand, Vietnam and Pakistan – which together account for 30 percent of global rice sales – may do similar copycat bans in case their crops are hurt by El Nino, which has returned for the first time in seven years.
Traders and scientists say a shortage of rice, a staple for more than half of the world's population, will have a spillover impact on wheat, soya beans, corn and maize, which are used as rice substitutes both for human consumption and in animal feed. This could lead to a domino effect on the demand and prices of not just other food items, but also fuel.
Why has India banned rice exports?
Rice is a staple for more than half the Indian population. The country produces around 135 million tonnes of rice annually, more than enough to meet domestic demand of around 100-105 million tonnes. This includes the rice it distributes at subsidised rates to the country's 800 million poor.
"Our buffer stock level is very, very comfortable. We have around 41 million tonnes of rice in [government] warehouses. We don't have any shortage. But our domestic price, with all other food prices, has been rising," said Samarendu Mohanty, who is the Asia regional director at the International Potato Center and who previously was the principal scientist at the International Rice Research Institute (IRRI) in the Philippines.
With global prices rallying on the back of the Russian war in Ukraine, rice prices are up more than 10 percent in India in the past year, several traders told Al Jazeera. The latest export ban, they say, was imposed to cool domestic prices and as a precautionary measure in case El Nino affects the rice crop that is standing, and the next cycle.
But with domestic prices continuing to stay high, the Indian government said last week that it will offload 2.5 million tonnes of rice in the open market in an attempt to rein in prices. With five state elections scheduled ahead of national elections in May next year, it's politically critical for the ruling government to keep prices low. As a result, the Indian export ban is likely to remain in place until then, experts say.
Panic buying
Videos of people panic buying Indian rice in crowded grocery stores in the United States and Canada have gone viral. There have also been reports of some stores in the US restricting sales to "one rice bag per family" to deal with the rising demand. Many of these customers are Indian expats used to eating Indian rice.
This price rise and grain shortage, experts say, is not likely to make a direct dent in food budgets in the developed market, where 80 percent of consumption is of basmati rice. But the impact on the "MENA market" — in the Middle East, which has a huge Indian expat community, and in North Africa as well as certain West African and Asian countries — is worrying.
In Nepal, Bangladesh and several African nations, where rice makes up more than half the food budget, and in countries like the Philippines and Indonesia, whose agriculture and fisheries are being hit by El Nino and other climate change conditions, panic is beginning to set in.
"In Indonesia, fisheries are already probably hurt because the impact of El Nino is pretty strong," said Raghu Murtugudde, earth system scientist and emeritus professor with the University of Maryland and Indian Institute of Technology Bombay. "There are ocean heatwaves that damage corals, impacting fisheries and tourism. If they are losing out on fisheries and tourism, they are going to lose out on rice purchasing power," he said.
This leads to a cascade effect on prices of other items as people switch from fish to meat. "Then meat gets hit, which in turn increases the demand for corn that is used as cattle feed, which impacts ethanol production and then fuel prices go up, impacting transport which leads to vegetables' prices going up. This has happened in the past," Murtugudde added.
Rice prices in Vietnam are reportedly the highest they have been in 15 years, and in Nepal rice prices have seen a 16 percent surge since India announced the ban.
The Philippines, the world's second-biggest importer of rice after China, is reeling under extreme weather conditions, including typhoons. Both Nepal and the Philippines have said they will ask the Indian government to allow rice shipments.
Last year, when India imposed a ban on broken rice, it left a provision for government to government (G2G) sales. Under that scheme, it exported close to 800,000 tonnes of rice to Senegal, Indonesia and the Gambia on humanitarian grounds.
This latest ban, too, has a provision for G2G exports to address food security concerns.
"The government of India is giving a positive signal that they might allow some export of white rice out of India on a certain quota basis," Olam's Gupta said.
But other experts say the amounts exported are small, the process is longer, and often hegemonies and politics are in play.
"G2G export will address the food security issue, but not the price issue. Prices will remain high until we open up the trade," Mohanty said.
Will El Nino lead to more curbs?
Rice from Asia accounts for 90 percent of the global production. And paddy in Asia is especially vulnerable to El Nino, a climate pattern caused by the warming of surface waters in the eastern Pacific Ocean that leads to an increase in both heavy rainfall and droughts.
"India gets affected by El Nino 60 percent of the time, but Southeast Asia, especially Indonesia, gets hammered very heavily 100 percent of the time," Murtugudde said.
Climate experts say in addition to El Nino, which can last from nine to 12 months, there are extreme weather conditions due to global warming.
"The whole country is on a monsoon break right now. What El Nino tends to do is extend these breaks. We have to see if El Nino creates a long break this August, in which case it'll create serious deficits in rainfall," Murtugudde said. Should that happen, it will hurt the next harvest.
For now, India is expecting a normal crop of 135 million tonnes, but August and September are critical in terms of rainfall for paddy that will be harvested between October and December. In India, this monsoon or "kharif" crop makes up about 80 percent of the total rice production. If rainfall fails, then India will have a drought that can affect about 35 percent of its rice production, Mohanty said.
At the same time, climate experts say, there could be massive floods in Pakistan because of Arabian Sea warming, damaging crops there.
El Nino's peak warming, which typically happens from December to February, may affect India's next crop, for which sowing takes place between October and December.
All this is adding to concerns of rice-producing and exporting countries – and they are beginning to create stockpiles in anticipation of a shortage.
"They may even consider temporary restrictions on rice export, which will lead to a situation like it was in 2007-2008, when rice prices tripled in a few months because of the rice ban that started with Vietnam," Mohanty said.
At that time, India and Cambodia joined in the bans, leading to a global rice crisis.
https://www.aljazeera.com/economy/2023/8/16/how-indias-ban-on-some-rice-exports-is-ricocheting-around-the-world
Published Date: August 16, 2023
More News