Heavy rains drub ripening rice in eastern Arkansas
Arkansas rice farmers in northeastern Arkansas were checking their fields for losses after storms on Thursday dumped more than 6 inches of rain; a less-than-ideal situation for a crop so near to harvest.
Coming into the week, the National Agricultural Statistics Service listed Arkansas' rice crop at 10% mature, well ahead of the five-year average of 5%. Rice was 74% headed compared with the five-year average of 65%.
Thunderstorms that parked over northeastern Arkansas on Thursday morning prompted the National Weather Service to issue a flash flood warning for the area, which included parts of Jackson, Independence, Izard, Searcy and Stone counties, until mid-morning.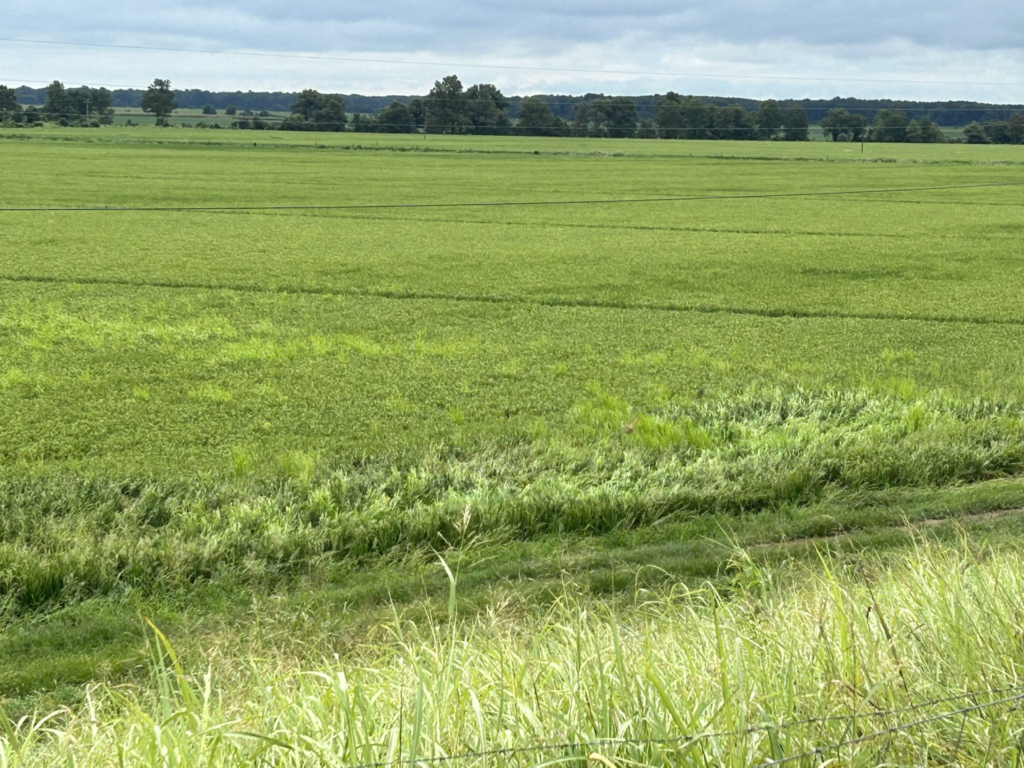 Heavy rains, in some places up to 8 inches, fell in a narrow band across several NE Arkansas counties on Thursday morning, causing some farmers concern for their almost-ready-to-harvest rice crop. Image taken Aug. 10, 2023, near Newport, Arkansas. (Photo by Matthew Davis, U of A System Division of Agriculture.)
On social media, farmers reported between 4 to 8 inches in Independence County and 5 to 6 inches in Poinsett County.
"It's not good at all. I'm hearing amounts of 5 to 6 inches since yesterday," Jarrod Hardke, extension rice agronomist for the University of Arkansas System Division of Agriculture, said on Thursday.
"Rice that's ready or near ready for harvest has a tendency to cave in and lodge under heavy rain, especially if there's any wind at all involved," he said. "I'm waiting to hear more from folks on how it's holding up. Limited comments so far are things are holding up but rice is starting to sag in some places."
Matthew Davis, Jackson County extension staff chair, said he had seen about 6 inches of rain near Newport.
"Most of the rice in my plots looks good," Davis said after making the rounds Thursday morning, he said. "You can see edges blown down where there is heavy grass pressure."
The grass caught the rain, collapsed and brought neighboring rice plants down with it.
The good news was this—"there were no complete losses anywhere I've seen so far," Davis said.
Hardke said that on Monday, heavy rain also affected rice in southeastern Arkansas.
"It put some rice down pretty flat in Chicot County," he said.
Stalled front
Justin Condry, a meteorologist for the National Weather Service at Little Rock, said the rain scenario was set in motion when a strong low-pressure system moved out of the Central Plains.
"As the low continued to track towards the northeast across central Missouri it pulled a frontal boundary across northern portions of the state," Condry said Thursday.
Overnight, "this boundary stalled, allowing moisture to ride along it. This is where we got into a situation where heavy rainfall began to train and back-build over the same areas," he said. "Training" is a phenomenon where repeating areas of rain move over the same area in a short period of time.

"Some of the highest totals were out of Independence and Jackson counties overnight, where observers reported 5.85 and 5.37 inches respectively," Condry said.
"For the most part, we are finished with the rainfall in the north for at least the next day or so," he said. "As we get into this weekend, models are indicating more showers and thunderstorms could be in the forecast as additional systems impact the state."
https://hpj.com/2023/08/14/heavy-rains-drub-ripening-rice-in-eastern-arkansas/
Published Date: August 15, 2023
More News