Govt staring at huge surplus of rice stocks
Robust procurement for free grain scheme, higher MSP, tepid response to open market sales jack up stocks.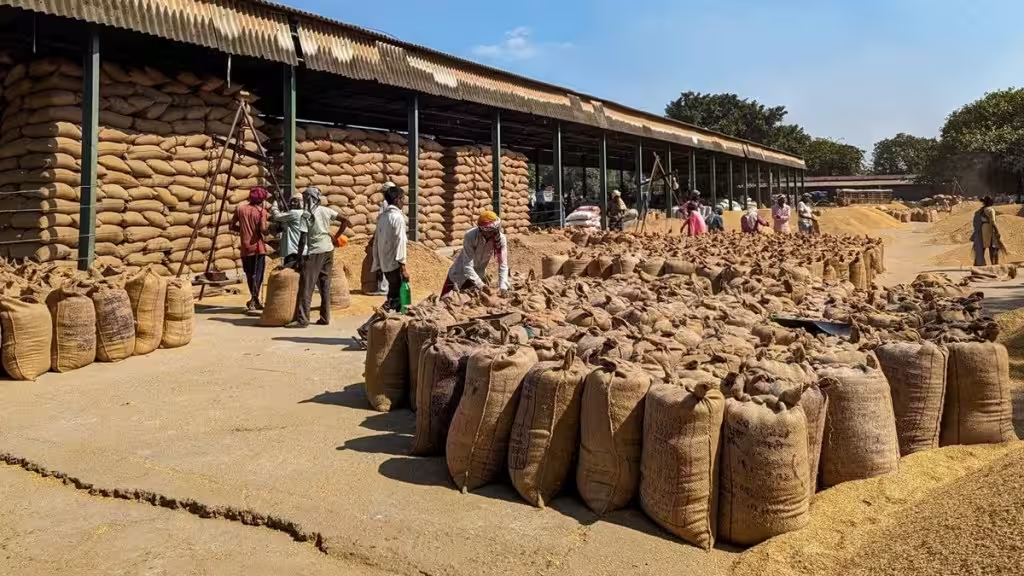 Currently FCI has 19.44 MT of rice, against the buffer of 7.61 MT for January 1. (Image/Reuters)
The government is staring at a huge surplus of rice stocks by the end of current procurement season 2023-24 (October-September), if steps to offload grain are not initiated soon. This could jack up the food subsidy expenditure, given the rising costs of grains storage and potential losses from damages.
As per the projection, the rice stocks held by the Food Corporation of India (FCI) are likely to be more than twice the buffer by the end of current season due to robust procurement by agencies and high opening stocks.
Currently FCI has 19.44 MT of rice, against the buffer of 7.61 MT for January 1. This excludes 23 MT of grain that is to be received from the millers.
The centre's decision against providing rice to states under open market sale scheme (OMSS) and for ethanol production lukewarm response to OMSS for rice by bulk buyers have compounded the problem.
Officials said that while the FCI and state government agencies have so far purchased about 17 million tonne (MT) rice-equivalent of paddy in the ongoing procurement drive which commenced on October 1, overall grain purchase in current kharif season is likely to cross 50 MT.
This is against the requirement of around 40 MT annually being supplied under the free ration scheme – Pradhan Mantri Garib Kalyan Anna Yojana (PMFBY). In addition, 5 – 6 MT of rice is expected to be procured during rabi season, the official said.
"While the open stock of rice with FCI in the beginning of October 1 was 22.18 MT which was more than double of the buffer, with more procurement in the current season (2023-24) would result in further swelling of stock," an official told FE.
The government has to come out with some policy initiatives to offload these surplus stock which had been rising since December, 2023 when the government had ended providing additional 5 kg of rice to 800 million beneficiaries monthly free under PMGKAY launched in April 2020 for Covid19 relief measure in addition to equivalent of quantity of highly subsidised rice under National Food Security Act (NFSA).
"Around 16 MT of rice is surplus annually after allocation under the free grain scheme and meeting buffer requirement," the official said, adding that the government decision against allowing states to buy rice under OMSS from FCI and stopping supplies of rice for ethanol production would push up stocks.
In 2022-23 ethanol supply (October-November), the government had supplied 1.3 MT of rice from FCI from biofuel production.
Under the existing procurement system, after paddy is procured from the farmers by FCI and state agencies, it is handed over to millers for conversion into rice. Paddy to rice conversion ratio is 67%.
Since the commencement of e-auction in July, the corporation has sold only 0.1 MT of rice in the open market so far while the government had earmarked 2.5 MT of rice from the central pool to be offloaded in the open market to bulk buyers this fiscal.
In August, FCI had cut the base prices of rice offered under open market sale scheme by Rs 2/kg to Rs 29/kg.
Average bid price for rice under OMSS earlier in the week was Rs 2,949.47/quintal against the reserve price of Rs 2,907.76/quintal.
Retail rice prices rose by 11.6% in October, a marginally lower from the previous month. The government has banned exports of white rice and imposed 20% export duties on par-boiled rice to improve domestic supplies.
https://www.financialexpress.com/policy/economy-govt-staring-at-huge-surplus-of-rice-stocks-3311193/
Published Date: November 20, 2023
More News