Govt in talks with BSF as rice, sugar smuggling rises after export ban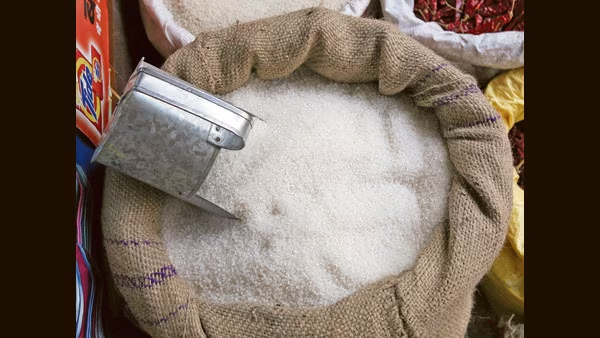 Ex-mill sugar prices so far have increased 6.5% since March and at present, prices are in the range of ₹3,600-3,700 per quintal in UP and ₹3,470-3,525 in Maharashtra. (BLOOMBERG)
New Delhi: Smuggling of sugar to Bangladesh has gone up following India's refusal to send one million tonnes of sugar under the government-to-government (G2G) route. The government did not grant permission citing limited availability in the country, said two people aware of the matter.
Additionally, there has been a surge in broken rice smuggling to neighbouring countries after India last September restricted exports to augment supplies in the domestic market and keep prices in check.
Similarly, the department of food and public distribution (DFPD) moved sugar exports to 'restricted' from 'free' category in October last year, which is set to be in place until 30 October this year to ensure adequate domestic supply.
The government fears smuggling could lead to a depletion in sugar stocks and take up prices domestically. The smuggling of these two commodities has prompted the ministry of food and public distribution has opened talks with the Border Security Force that guards the 4,096 km-long international border with Bangladesh, security agencies and custom officials. Officials aim to come up with measures and strategies to curb these illegal exports.
Queries sent to the ministries of food and public distribution, home affairs, consumer affairs, agriculture and farmers welfare, commerce, external affairs, agricultural and processed food products export development authority, Food Corp. of India, and the Bangladesh government on Friday remained unanswered at press time. Sugar prices have started going up aggressively since March.
However, a sugar industry expert, requesting anonymity, said, "If smuggling of sugar is taking place, a maximum of 300,000-400,000 tonnes may go out of the country, which will not make a significant difference as far as domestic consumption is concerned."
"India is in a comfortable position as far as the sugar inventory is concerned. Sugar production in the 2022-23 (October-September) season is seen not to be less than 33 mt against the domestic consumption of 27.5 mt. Mills in Tamil Nadu and Karnataka have already started crushing sugar in the special season and we may get about 300,000-400,000 tonnes of additional sugar in the special season (July-September). Hence, there is no room for domestic supply shortage," the expert added.
The expert further said the closing stock for the ongoing season ending September is unlikely to be less than 5.5 mt, which is sufficient for the first two months in the new season starting October. The upward trend in prices is not as substantial as that of other commodities.
Ex-mill sugar prices so far have increased 6.5% since March and at present, prices are in the range of ₹3,600-3,700 per quintal in UP and ₹3,470-3,525 in Maharashtra. Wholesale broken rice prices have gone up 13.6% since June in tandem with long-grain rice prices due to uneven distribution of monsoon.
The all-India average broken rice price is quoted at ₹2,500 a quintal in the wholesale market, spot trade sources said.
https://www.livemint.com/news/india/smuggling-of-sugar-and-broken-rice-to-bangladesh-surges-amidst-indian-export-restrictions-government-takes-action-11690737136733.html
Published Date: July 30, 2023
More News