Govt cuts floor price of basmati exports to USD 950 per tonne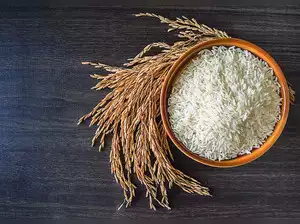 New Delhi: The government has reduced the floor price for
basmati rice exports to USD 950 per tonne from USD 1,200 per
tonne amid concerns that higher prices were hurting
outward shipments.
In a communication to export promotion body APEDA, the Union
Commerce Ministry has said "it has been decided to revise the
price limit for registration of contract for export of basmati rice from
USD 1,200 per tonne to USD 950 per tonne."
Agricultural and Processed Food Products Export Development
Authority (APEDA) has been directed to register only those
contracts having value of USD 950 per tonne and above.
The government on August 27 decided not to allow exports of
basmati rice below USD 1,200 per tonne to restrict possible "illegal"
shipment of white non-basmati rice in the garb of premium basmati
rice.
India's total exports of basmati rice stood at USD 4.8 billion in 2022-
23 in terms of price, while in volume terms it was at 45.6 lakh tonne.
Rice exporter associations have been demanding from the last two
months to reduce this price, stating that India is losing its export
market due to the tough price competition from neighbouring
countries like Pakistan.
They have been also arguing that India's average export
realisations in the last 2-3 financial years have been USD 800-900
per tonne.
On October 15, the food ministry had said the government is
considering the industry's demand to reduce the floor price.
Based on representations received from the associations that the
high FOB (free on board) value is adversely affecting the export of
basmati rice from India, Food and Consumer Affairs Minister Piyush
Goyal had attended a consultative meet with the basmati rice
exporters, the food ministry had said in a statement.
Seeking to control retail prices of rice, the central government has
been taking several steps to boost domestic supply.
In September last year, it banned exports of broken rice, while in
July this year, it imposed restrictions on non-basmati white rice. A
20 per cent export duty was also slapped on par-boiled non-basmati
rice.
With these curbs, India has imposed restrictions on all varieties of
non-basmati rice.
As per the Foreign Trade Policy, APEDA is mandated to register all
contracts for the export of basmati rice and then it issues
registration-cum-allocation certificate for the export of basmati rice.
The basmati crop grown in kharif season has started arriving in the
market and the decision to reduce the floor price will boost exports.
"Now, the new crop of basmati has started arriving and there is
generally a decline in prices when the new crop starts arriving," the
food ministry had said while giving a rationale for the need for the
review.
As per the final estimate, rice production is estimated to be a record
135.75 million tonnes in 2022-23 as against 129.47 million tonnes in
the previous year.
According to industry, the average export prices of basmati rice
stood at USD 850-900 per tonne in 2021 and 2022.
This year, it was around Rs 1,050 per tonne before the
government's August 25 decision not to register contracts below
USD 1,200 per tonne.
Basmati rice exporter GRM Overseas MD Atul Garg said the move
will reinstate competitiveness of Indian basmati rice shipments in
the global markets.
"Exporters are now working towards regaining the lost ground. As a
result, the buying cycle is showing signs of getting the momentum
back. The decision to cut MEP (minimum export price) of basmati
rice will benefit all key supply chain stakeholders," he said.
Rajya Sabha member from Punjab Vikramjit Singh Sahney, too, has
urged the commerce ministry to cut the price.
On the decision, he said it is a big relief for exporters and farmers.
"There are almost 40 varieties of basmati rice ranging from USD
850-1,600 per tonne. Lower varieties of Basmati rice contribute to
70 per cent of the export market," Sahney said.
https://economictimes.indiatimes.com/news/economy/foreign-trade/govt-cuts-floor-price-of-basmati-exports-to-usd-950-per-tonne/articleshow/104731604.cms
Published Date: October 26, 2023
More News