Global shortages prompt rush on Vietnamese rice imports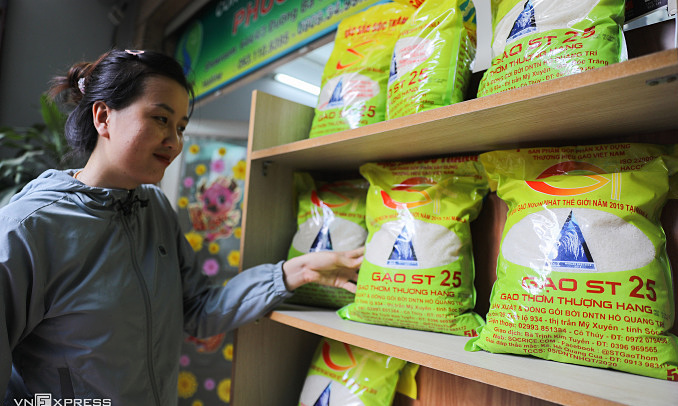 Rice sold at a supermarket in HCMC. Photo by VnExpress/Quynh Tran.As global supply diminishes, countries are rushing to import Vietnamese rice, pushing prices to new heights.
The latest report by the Vietnam Food Association showed major changes in the rankings of Vietnam's largest rice importers last month.
China, previously Vietnam's second largest rice importer, dropped to number 6, as Indonesia, Ivory Coast, Ghana and Malaysia assumed positions in the top 5.
In October, Indonesia imported over 144,600 tons of rice from Vietnam, pushing the country to number 2, behind the Philippines.
Next in rank is the Ivory Coast, which used to import only 1,000-1,300 tons from Vietnam, a figure that now stands at 62,000 tons, translating to a total US$37.5 million in value.
Similarly, Ghana and Malaysia also massively increased imports of Vietnamese rice, reaching 46,470 tons and 40,728 tons respectively, putting them in the fourth and fifth spots. Compared to September, the two countries imported 20-30% more rice.
According to Vietnamese export companies, the rush on local rice is due to a sharp drop in global supply and natural disasters that have impacted supply in the aforementioned countries. Thus, they need to import more rice to stabilize prices and ensure ample supply.
Indonesia still needs to add another 1.5 tons of rice to their national reserve before the year's end.
Arief Prasetyo Adi, acting Minister of Agriculture in Indonesia, declared Vietnam and Thailand the country's current main sources of rice.
Perum Bulog, the enterprise tasked with importing rice by the Indonesian government, has reported that all the paperwork to import the remaining 1.5 tons of rice has been completed and the import process will begin at the end of October.
For the past two years, rice production in the Ivory Coast and Ghana has been insufficient as the two West African countries have struggled with natural disasters, bad harvests, political instability and plagues.
As demand for Vietnamese rice skyrockets, its prices are currently the highest in the world, at $653 per ton over the last month, even more expensive Thai rice at $75 per ton.
In Vietnam, domestic rice prices have also reached record highs.
For example, Dai Thom rice from large local companies fetches VND21,000 per kilogram, a VND1,000 (5%) jump from a month ago, and a VND3,000 (16%) increase year-on-year.
Rice prices from agricultural supplier Loc Troi Group, as well as those for ST21 and ST24 rice from small and medium-sized companies, have risen VND500 per kilo compared to last month.
Long An and Go Cong Jasmine rice have both seen a VND1,500 increase in prices, which are now at VND21,000 and VND22,000 per kilo, respectively.
A report by the Ministry of Agriculture and Rural Development shows that Vietnam has produced 43-43.4 million tons of rice this year to date, a 650,000-700,000-ton increase from 2022.
Aside from exporting, Vietnam also must ensure sufficient supply for its domestic market.
As of Oct. 25, there are still 400,000 hectares of unharvested autumn-winter rice crop, which amounts to about 2.2 tons of rice from now to the end of December.
For the upcoming winter-spring crop, Vietnam expects to plant around 3 million hectares of rice, 10,000 hectares less than the previous rice crop.
However, production is projected to top 20 million tons, a higher figure than the same period in 2022, thanks to farmers improving their skills and selecting appropriate rice varieties for the season.
https://e.vnexpress.net/news/business/industries/global-shortages-prompt-rush-on-vietnamese-rice-imports-4679360.html
Published Date: November 21, 2023
More News