Food inflation prompts Indian farmers to plant rice on more land amid unpredictable weather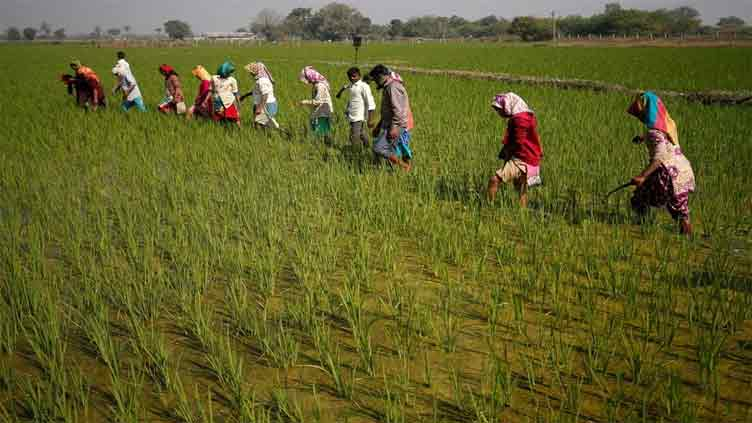 NEW DELHI (Web Desk) – June saw scant rains in India meaning that the farmers were unable to sow crops on time but the abundant rains during July in the regions that can be described as rice belts meant that the growers were encouraged to plant rice on more area as they saw an opportunity to take advantage of the global and domestic markets.
So higher food prices or food inflation both at home and abroad made the Indian farmers realise that they could take advantage of the market forces which usually aren't in favour.
In fact, the farmers can only hope for a favourable market as they have no other option because of being restricted by the crop pattern. The reason is simple: they are always at the mercy of Mother Nature.
Hence, Reuters says Indian farmers have planted 36.1 million hectares (89.2 million acres) with rice, up 4.3 per cent on the same period last year, farm ministry data showed on Friday.
India is the largest rice exporter in the world and the concerns about rising inflation and food security made New Delhi last month to impose restrictions that will roughly halve its exports of the grain.
Millions of farmers start planting rice, corn, cotton, soybeans, sugarcane and peanuts, among other crops, from June 1, when monsoon rains typically begin lashing India. The monsoon is vital as nearly half of India's farmland lacks irrigation, Reuters noted.
For June and July together, India's monsoon rains were 5pc above average, falling 10pc below normal in June but rebounding to 13pc above average in July.
Lower rainfall in June, especially in some southern, eastern and central states, held back summer crop planting, even though the monsoon advanced to cover the entire country almost a week earlier than normal.
But summer rains turned patchy again this month, with the monsoon nearly 40pc below average in the first 17 days of August. The weather office defines average, or normal, rainfall as between 96pc and 104pc of a 50-year average of 87 cm (35 inches) for the four-month season.
Scant rainfall is likely to persist across large areas, indicating that India is heading for its driest August in more than a century.
Farmers had planted 18.6 million hectares with oilseeds, including soybeans, by Friday, against 18.9 million hectares a year earlier.
Corn was planted on 8.1 million hectares, up from 7.9 million hectares a year earlier. The cotton area was also marginally smaller at 12.2 million hectares.
The Ministry of Agriculture and Farmers' Welfare keeps updating the provisional sowing figures as it gathers more information from the state governments.
The planting figures are also subject to revision depending on progress of the June-September monsoon season.
THE POTATO RUSH
It reminds us of the "Potato Rush" in Pakistan back in mid and late 90s when the per kilogramme price in the country had jumped to Rs40 – an unprecedented level according to that period. It was in this context that the farmers started focusing on potatoes.
However, this Potato Rush didn't last long as a combination of market forces and weather slashed the profits within a year. So there was very room or attraction in increasing the acreage after that.
But the farmers got an alternative as they were and still are a hostage to the crop pattern – which requires an immediate change given the violent nature of the global warming effects as being reflected by the extreme weather events – ranging from scant and intense rains to droughts and record-high temperatures.
https://dunyanews.tv/en/Business/748421-Food-inflation-prompts-Indian-farmers-to-plant-rice-on-more-land
Published Date: August 19, 2023
More News