Farming experts, advocates, say India's rice export ban will not likely cause food shortages
Export ban may hurt poor countries but benefit U.S. growers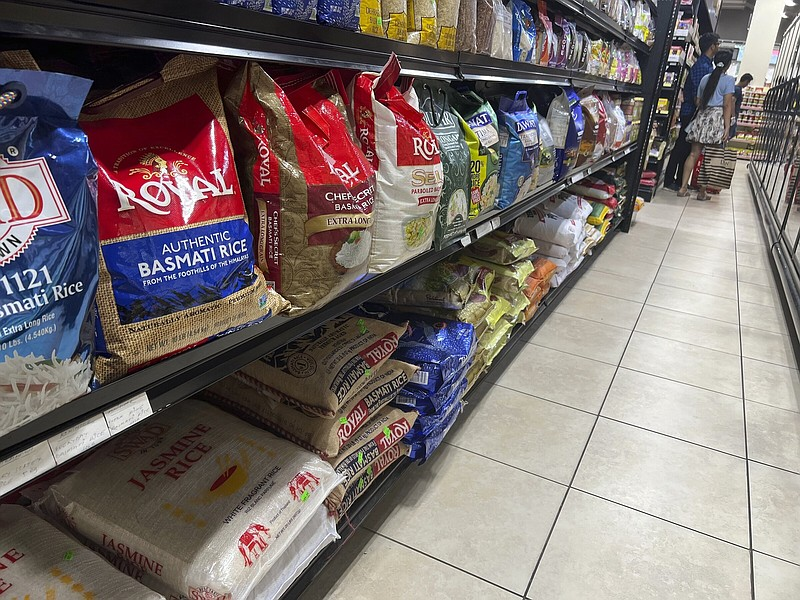 Rice is on display at Little India, an Indian grocery store in New York on Saturday, July 29, 2023. An earlier than expected El Niño brought drier, warmer weather in some parts of Asia and is expected to harm rice production. But in some parts of India, where the monsoon season was especially brutal, flooding destroyed some crops, adding to production woes and rising prices. (AP Photo/Bobby Caina Calvan)
Food shortages related to India's recent ban on the export of white non-basmati rice are unlikely and Arkansas rice farmers may benefit from better prices after fall harvest, Arkansas agriculture experts and advocacy groups say.
India instituted the ban on July 20. It accounts for more than 40% of international rice exports and is the second largest rice producer in the world after China.
Arkansas Farm Bureau and USA Rice Federation representatives expressed concerns on Tuesday that India could flood the global market with rice they have stored up, which could manipulate global market prices for rice and make it harder for U.S. farmers to compete.
"It's a problem when you have a single country that can manipulate the world market price just depending on their own policies and what they decide to do year to year," said Newport rice farmer Jeff Rutledge, who is vice chairman of the USA Rice Federation Council for Arkansas and is also active with Arkansas Rice Federation.
Alvaro Durand-Morat, associate professor and agricultural economist for the University of Arkansas System Division of Agriculture, said India has a healthy stockpile of rice but would not necessarily use it to flood the global market if food insecurity is the main concern.
Durand-Morat said the Indian government's decision to institute the ban was driven by concerns about domestic food security and El Niño climate patterns this year causing drought and resulting in lower rice yields.
Durand-Morat said domestic prices for rice in India have also been increasing.
"There are concerns about inflationary pressure for rice and also we have to be mindful that there are elections coming up in India as well; rice is a very political commodity," Durand-Morat said.
Durand-Morat said India finished 2022 with good rice yields and said signs for now point to relatively good rice production in India this year too.
"If that ends up happening, India will have plenty of rice to satisfy the domestic market and to export," Durand-Morat said.
"Where we stand today, the monsoon season is coming along pretty well. There hasn't been any big disruptions in the areas planted and to give context, India is planting rice right now or just ending planting."
Experts and farming advocates agree that there is no chance of rice shortages in the U.S. because of the ban.
"The U.S. produces more than enough, we import a lot of rice from India, we import a lot of basmati rice from India, but that rice has not been impacted by the ban," Durand-Morat said.
"The rice that was banned by India is actually the type of rice we primarily produce in Arkansas, so if anything, we've got plenty of rice to supply the domestic market … and if anything, I think there will potentially be a positive impact on producer prices in the U.S."
Rice farmers can either sell directly at harvest, hedge their crops on futures markets or put their rice in a marketing pool with one of the larger rice cooperatives in Arkansas, said Brandy Carroll, Arkansas Farm Bureau director of commodity activities and market information, overseeing rice and cotton.
Carroll noted costs of production for U.S. rice farmers have decreased somewhat since last year but U.S. rice acreage has also declined slightly over time, particularly in Arkansas.
Widespread drought affected crops across the U.S. last year but more acres of rice were planted this year, Carroll said.
"The [rice] crop this year will for sure be bigger than last year's crop," Carroll said.
Seven states produce rice in the U.S. and Arkansas produces nearly half of rice grown stateside; approximately half of total U.S. rice production is exported, Rutledge said.
"There are some imports that come in and that's about 20% to 30% of the market in the U.S.; those are typically just aromatic varieties like basmati and jasmine, but we produce those varieties here in the U.S. as well," Rutledge said.
"We could stop our exports tomorrow and double the amount of rice that we have available for consumption in this country."
Carroll said U.S. rice production this year is expected to be 5.6 million tons and total domestic consumption of rice is expected to be 5.25 million tons, according to the U.S. Department of Agriculture.
Durand-Morat said rising prices for rice may have real food security consequences for countries in eastern Africa, Madagascar and Bangladesh, countries that depend on rice as a staple food and particularly rice from India.
"To me, it seems like a very early decision that may cause many people around the world a lot of pain because of higher prices," Durand-Morat said.
https://www.nwaonline.com/news/2023/aug/02/farming-experts-advocates-say-indias-rice-export/?business
Published Date: August 2, 2023
More News