Extreme summer heat harms rice quality and market value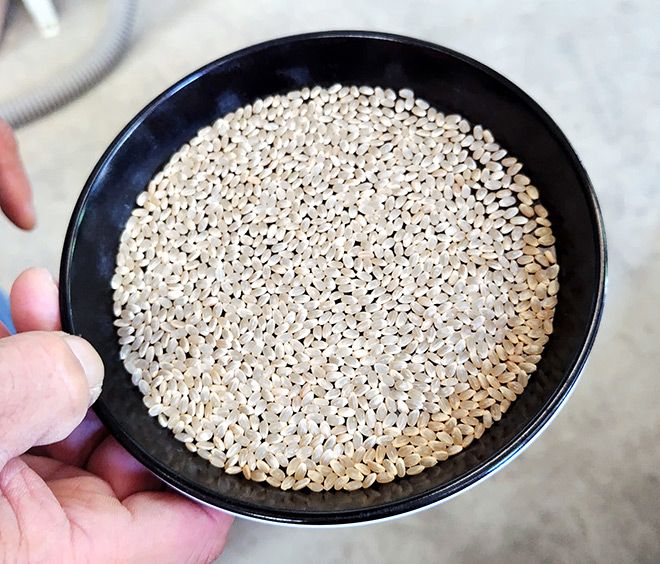 A heat wave and drought led to more chalky rice grains this year. (Hironori Kato)
This summer's extreme heat has devastated the quality of rice, with the harvest of top-quality rice in Japan dropping to a record low, data showed.
The drought and a record heat wave that persisted until early September caused a lower rice yield, chalkier grains and lower prices.
Of the total rice harvested in Japan by the end of this September, only 59.6 percent met the standards to be classified as first-grade rice.
That's down 16 percentage points compared to rice harvested in the same period last year, according to a report released by the agriculture ministry on Oct. 31.
The figure is the lowest since 2004, when the current record-keeping method began. The ministry has so far inspected 40 percent of the harvest expected this year.
Niigata is the hardest-hit prefecture, with the ratio of first-grade rice to total rice harvest dropping 60.9 percentage points to 13.5 percent, on track to fall below the record of 20.3 percent set in 2010.
For Koshihikari, a popular rice variety grown on more than 60 percent of the prefecture's rice fields, the figure fell 76.6 percentage points to 3.6 percent.
Rice production in the prefecture suffered 13.5 billion yen ($89 million) in damages, equivalent to 13 percent of the rice production there in conventional years, due to the heat and drought, according to Niigata prefectural officials.
"Rice farmers need support to carry on next year and beyond," said Niigata Governor Hideyo Hanazumi.
Rice quality also suffered in the Tohoku region, with the ratio of first-grade rice dropping 30 percentage points to 62.6 percent in Akita Prefecture and 41.7 points to 54.7 percent in Yamagata Prefecture.
Nationwide, 11 prefectures saw the proportion of first-grade rice fall by 10 percentage points or more.
In Japan, rice is ranked based on the proportion of high-quality grains, which are characterized by their large size, even shape and bright color.
First-grade rice contains at least 70 percent high-quality grains. The ratio is 60 to 69 percent for second-grade rice and 45 to 59 percent for third-grade rice. All other rice is classified as substandard.
Although lower-grade rice may have little difference in taste, it is sold at lower prices.
To address the impact of climate change on rice production, the ministry is promoting heat-resistant varieties, which were already grown in 12.8 percent of the country's rice fields in 2022.
One of these, the Niigata-born Shinnosuke variety, had 97.3 percent of its harvest classified as first-grade rice.
(This article was written by Hironori Kato and Sho Hatsumi.)
https://www.asahi.com/ajw/articles/15045743
Published Date: November 1, 2023
More News