Extreme summer heat affects Japan's rice quality, research begins in Niigata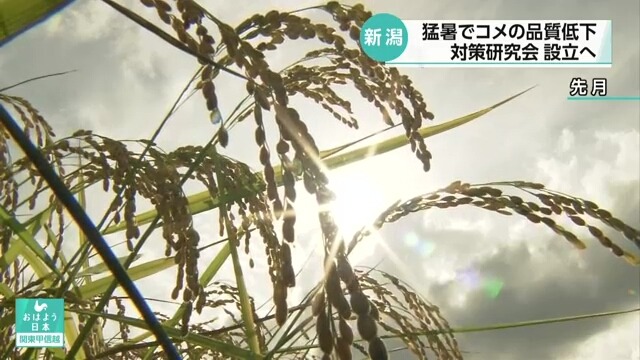 The prefectural government of Niigata, which is known for producing good rice, is to set up a study group to analyze the impact of excessive heat this summer on the quality of rice.
Niigata Prefecture is a major producer of rice in Japan.
The Koshihikari variety is a mainstay grown in the prefecture. But the record heat this summer has affected the crop.
Officials there said that only 3 percent of the harvest at the end of September ranked the best class on a scale of four. That is the worst ratio on record.
The study group consists of experts on developing rice varieties and climate change. They will begin working by the end of October.
The experts will try to pinpoint factors which affected rice quality.
They will look into weather, location of rice paddies, farming methods and management of crops, based on a questionnaire survey on local farmers.
The group will then compile a report.
The prefectural government hopes the study will help find better variety compositions and develop ones that are more resistant to heat.
Officials say that they want to consistently supply quality rice to the market, despite global warming.
https://www3.nhk.or.jp/nhkworld/en/news/20231022_05/
Published Date: October 22, 2023
More News