Exports surge as India exits rice market
Domestic prices soar despite being locally produced, in order to meet export targets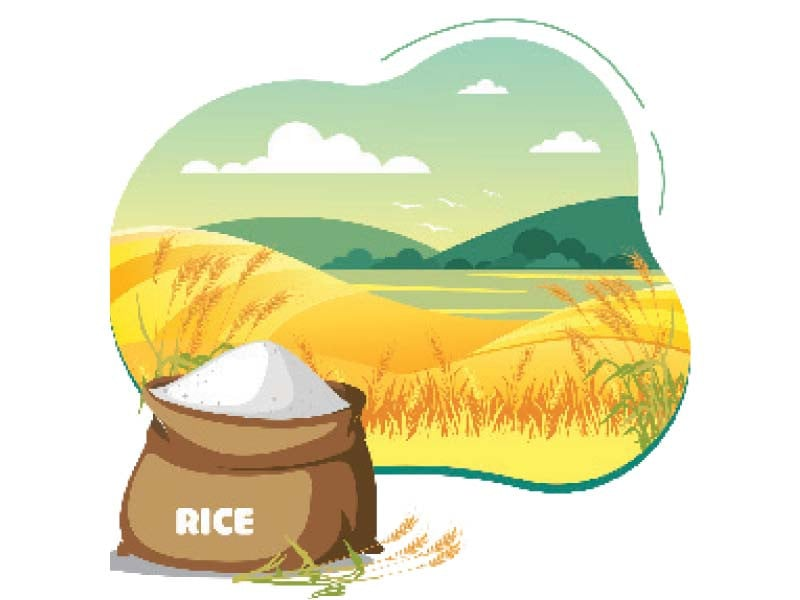 KARACHI:
In a striking turn of events, Pakistan finds itself poised to capture the attention of Indian rice buyers on the global export stage. This unexpected opportunity has emerged following New Delhi's decision to exit the market in an attempt to stabilise domestic rice prices. While Pakistan's rice export prospects soar, its domestic market faces the heat of escalating commodity prices. The situation has escalated rapidly, with prices spiking by over 30% in just a few weeks as hoarders and speculators capitalise on the evolving landscape.
Export boom amidst domestic woes
Chairman of the Rice Exporters Association of Pakistan (REAP), Chela Ram Kewlani highlighted that Pakistan's rice exports are projected to leap by approximately 35%, translating to a staggering 5 million tonnes valued at $3 billion for the 2023-24 period. This forecast comes in contrast to the previous fiscal year 2022-23, during which Pakistan exported 3.72 million tonnes of rice worth $2.15 billion, reflecting a 25% drop in volume and a 14.5% decline in US dollar value. This dip was attributed to crop damage due to flash flooding.
Changing tides and domestic impacts
The US Department of Agriculture (USDA) added another layer to this narrative by forecasting that rice production would rebound in 2023-24, reaching 8.8 million tonnes compared to the flood-affected 8.3 million tonnes of the previous year (2022-23). The projection anticipates a boost in domestic surplus, aligning with an estimated 4.5 million tonnes of rice earmarked for export in 2023-24.
Speaking to the Express Tribune, immediate past senior vice chairman of REAP, Muhammad Anwar Mian Noor underscored the depletion of rice stocks in domestic markets. He speculated that remnants of these stocks might be found in the backyards and godowns of hoarders. As the new harvesting season commences within two weeks, Noor highlighted the startling fact that the price of non-basmati rice has surged to $600 per tonne in Pakistan, compared to the export price of $450 per tonne the previous year. While traders may benefit from this export premium, Noor emphasised the need for government intervention to ensure stable local prices, curb hoarding, and mitigate foreign debt reliance.
Global shifts and market dynamics
India's abrupt exit from the global market has triggered a ripple effect, driving rice prices to a 12-year high in export markets, according to the United Nations (UN) food agency. The Food and Agriculture Organisation's (FAO) All Rice Price Index, a gauge tracking prices in key exporting countries, averaged 129.7 points in July, a rise from 126.2 points the previous month, as quoted by Reuters. This underscores the global ramifications of India's decision.
Kewlani further elaborated that the impending surge in exports is bolstered by Russia's registration of an additional 15 Pakistani companies for rice imports. An additional 12 Pakistani rice-exporting companies are in the process of registration, opening doors to a promising avenue for generating extra foreign exchange. Russia's significance as a substantial market for Pakistani rice augments the potential for growth, he said.
Roadblocks and opportunities
Mexican technical experts' recent visit highlighted the compliance of Pakistani rice export companies with standard operating procedures (SOPs). Since 2013, Pakistan's rice exports to Mexico have been banned due to the detection of Khapra beetle infestation, a harmful pest, in its export consignments. Kewlani expressed optimism that the ban on Pakistani rice exports to Mexico will soon be lifted. In terms of production, Pakistan anticipates a bumper rice crop this year, with expectations set at approximately 9 million tonnes.
Amidst this evolving landscape, Chairman of the Karachi Retail Grocers Association, Fareed Qureshi drew attention to the domestic scenario. The price of rice has surged by an average of 200%, reaching Rs300/KG compared to Rs100/KG three years ago. This price escalation can be attributed to a confluence of factors, including the disruptive impact of Covid-19 in 2020 and 2021, floods in 2022, and the recent elevation in export targets following India's export ban.
For high-quality basmati rice, the price surged to Rs500/KG, marking a significant jump from Rs250-300/KG three years prior. Similarly, the price of non-basmati rice has soared to Rs350-400/KG, compared to Rs120-150/KG three years ago. This price turbulence underscores the far-reaching implications of global shifts on local markets.
As Pakistan navigates this intricate landscape of export prospects, market volatility, and domestic implications, stakeholders are watching closely to discern how these interwoven dynamics will shape the nation's rice industry in the coming months.
Published in The Express Tribune, August 6th, 2023.
https://tribune.com.pk/story/2429497/exports-surge-as-india-exits-rice-market
Published Date: August 6, 2023
More News