Demand for Pakistan's rice surges as India mulls Non-Basmati export ban
The question arises that what is more important: foreign exchange reserves or affordable food?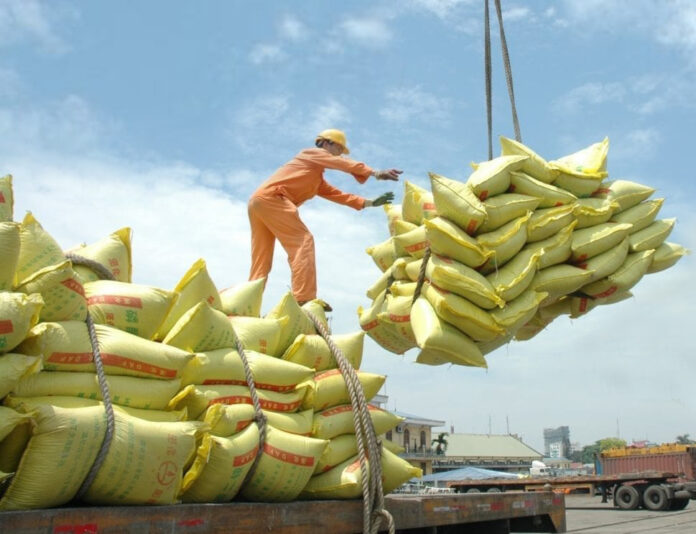 ISLAMABAD: The international rice market is witnessing a significant upheaval as India, a major global rice producer, contemplates a ban on non-basmati rice exports. This uncertainty has prompted a surge in demand for Pakistan's rice, leading to increased offers and higher prices. International buyers are now turning to Pakistan for their non-basmati rice needs.
India's position in the rice market
In 2022 India exported over 22 million tonnes of rice to the entire world. As the single largest exporter of white rice in the world, India control's a massive 40% of the global market for rice providing different kinds of rice that many other countries in the world are heavily dependent on for their caloric intake.
And this year the Indian government has put a ban on the export of all kinds of rice except the aromatic and high-end Basmati variety. The ban comes in response to soaring rice prices in India and a general food inflation crisis that has been brewing in the country.
As a result, the international rice market suddenly finds itself short on more than 10 million tonnes of rice. With a global food crisis already about to reach crescendo because of the Russia-Ukraine war, rice importing countries and international organisations are suddenly faced with a concerning question: how will this massive shortfall of rice be met?
Already the news of India's rice ban has resulted in supermarkets facing panic buying all the way in the United States and other countries that rely on Indian rice. Some other countries that are also exporters may also follow suit with a ban to protect their own domestic markets. So who will take the opportunity?
The impact on prices of the world's most consumed staple has been swift, hitting 15-year highs. Limited supplies risk a further spike in the price of rice, and global food inflation, hitting impoverished consumers in Asia and Africa, analysts and traders said. Food importers are already grappling with tight supplies caused by erratic weather and disruptions in Black Sea shipments.
Global rice prices, as tracked by the United Nations' Food and Agriculture Organization (FAO) All Rice Price Index, rose 2.8% in July, or 20% year-on-year, to their highest level since September 2011. Indica rice, the primary crop grown in India and other parts of South Asia, accounts for roughly 70% of the global rice trade.
The FAO warned that the price rise "raises substantial food security concerns for a large swath of the world population, especially those that are most poor and who dedicate a larger share of their incomes to purchase food."
Pakistan's opportunity
The situation is tricky for Pakistan. On the one hand there is an opportunity to export rice and earn foreign exchange – something for which rice growers will be very keen. On the other hand, there is the very real possibility that if a vast majority of our rice gets exported, prices in the domestic market will rise sharply. Pakistan is already reeling from inflation.
A day after the country's national assembly was dissolved, the ministry of finance said that Pakistan was facing five major and persistent economic challenges, resulting in rising poverty and social vulnerabilities. Rising inflation, particularly food inflation –– the highest in the history of Pakistan –– increase in administered prices of petroleum products, electricity, and gas and continuous depreciation of the country's currency. All this will have a negative impact on household consumption leading to greater poverty, particularly in rural areas, the ministry highlighted.
It is a question that other major rice exporters are also grappling with. Both Thailand and Vietnam emphasised that they will ensure their domestic consumers are not hurt by rising exports. "It's unacceptable for a rice-exporting country to face tight supplies and high domestic prices," Vietnam Minister of Industry and Trade Nguyen Hong Dien said last week.
It must be remembered here that Pakistan has the opportunity to take some of the Indian market away not in the long-term but just this year in particular. India is facing high food inflation for the same reason that the rest of the world is: the Russia-Ukraine war. Next year, if India is not facing similar food inflation, they will be back to take their place as the biggest rice exporter in the world. The question that faces policy makers is whether or not a one time export boost is worth the immediate pain that short term inflation will cause the public. Since it is caretakers that will be taking these decisions, there is no question of electability here but a simple matter of cost-benefit analysis that the finance ministry will have to do.
India's inflation rose to 4.8% in June on the back of soaring food prices — still within the central bank's inflation target of between 2% and 6%. However, inflation "threatens to come in at 6.5% in July," HSBC estimated in a report dated July 24. HSBC economists cautioned that extreme weather events could further put a strain on crop output.
That is exactly what happened. Inflation peaked at 6.40% in July, breaching the Indian central bank's upper limit of 6%.
What do exporters have to say?
Toaufiq Ahmed, former vice president of the Rice Exporters Association of Pakistan (REAP), emphasized that this surge in international rice demand presents a lucrative opportunity for Pakistan to capture vital markets. With the looming possibility of reduced rice supply from India, the prices of Pakistani non-basmati rice have skyrocketed by over 20 percent or at least $100 per ton. Since Pakistan's fresh crop is nearly ready for harvest, growers have begun to raise prices for the new crop due to the uncertain global situation.
Ahmed highlighted that with the right facilitation from the government and relevant authorities, Pakistan's rice export could potentially increase by $1 billion, boosting the total export value of the sector to around $4 billion. He noted that rice exports had ranged from $2 to $2.5 billion in the past few years.
However, a potential downside of the surge in non-basmati rice exports could be a price hike in the local market. Ahmed believed that basmati rice prices might not see the same jump as non-basmati rice because India continued to export its high-quality basmati rice without disruption.
Another member of REAP pointed out that the high interest rate was posing challenges for traders and growers to conduct deals through banking transactions. He urged the government to consider the unfavorable effects of the interest rate.
The current situation stems from India's decision to ban non-basmati white rice exports in July, following an earlier ban on broken rice exports. These bans were motivated by domestic concerns, including rising food prices, inflation, and fears of rice shortages due to disruptions caused by El Niño. The bans have had a global impact, leading to rice price increases.
India has historically been a major player in the global rice market, accounting for nearly 40 percent of global rice trade in 2022. The country's exports included basmati rice, parboiled rice, non-basmati white rice, and broken rice. The ban on non-basmati rice exports from India has driven up global rice prices by 15-25 percent, affecting vulnerable populations in countries like Bangladesh, Nepal, and African nations that rely on Indian rice.
Furthermore, there are concerns that other major rice-exporting countries like Thailand, Vietnam, and Pakistan might follow suit with export bans if their crops are affected by El Niño. A rice shortage could have far-reaching impacts, affecting wheat, soybeans, corn, and maize prices, with potential consequences for food items and fuel.
India's domestic rice production is ample to meet its needs, but the ban on exports is aimed at stabilizing domestic prices amid rising food costs. The Indian government's decision to offload 2.5 million tonnes of rice into the open market reflects its efforts to manage domestic prices. This move is crucial in light of upcoming state elections and the broader national elections, where price control is a political priority.
The ripple effects of the export ban are being felt worldwide, with panic buying observed in various markets, particularly among Indian expat communities. While the direct impact on developed markets is limited due to their preference for basmati rice, countries heavily reliant on rice for their food budgets are feeling the pressure.
As India's non-basmati rice exports hang in the balance, Pakistan stands to gain from the surge in international demand. The situation calls for careful management of domestic prices and international trade to ensure food security and stability in global markets.
https://profit.pakistantoday.com.pk/2023/08/23/demand-for-pakistans-rice-surges-as-india-mulls-non-basmati-export-ban/
Published Date: August 24, 2023
More News