DA to inspect rice warehouses for hoarding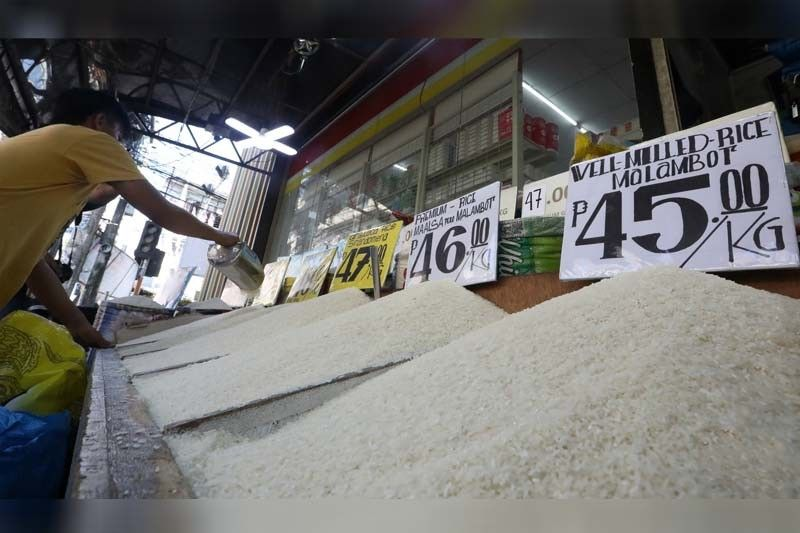 Rice dealers display rice and their prices at Trabajo Market in Sampaloc, Manila on August 10, 2023.
MANILA, Philippines — The Department of Agriculture (DA)'s Inspectorate and Enforcement group will inspect warehouses amid allegations of manipulation of stocks to justify the spike in retail prices of rice.
At a press conference yesterday, Agriculture Assistant Secretary and deputy spokesman Rex Estoperez said that while the Rice Tariffication Law or Republic Act 11203 removed the regulatory powers of the National Food Authority (NFA) to inspect warehouses, the DA is still empowered to visit rice storage facilities.
"We cannot compel the rice warehouses as the regulatory function of the NFA was removed but on the part of DA, we can, through our Inspectorate and Enforcement, we can also request them to visit the warehouses of rice," Estoperez said.
The DA Inspectorate and Enforcement Office is headed by Assistant Secretary James Layug.
Estoperez reasoned that the retail prices of the staple food have increased as the palay harvest will start in the latter part of September or early October.
He also defended the decision of the DA to use the humanitarian issue in its negotiation with India to allow the Philippines to import rice despite its export ban.
"We were hit by a typhoon and so far, based on our negotiation with India, we asked that we should be exempt from the export ban as a humanitarian consideration," Estoperez added.
Agriculture Senior Undersecretary Domingo Panganiban has announced that the country is eyeing the importation of 300,000 to 500,000 metric tons from India and Vietnam to ensure that there will be enough rice stocks in the country.
Meanwhile, Kilusang Magbubukid ng Pilipinas national chairman Danilo Ramos and Bantay Bigas spokesperson Cathy Estavillo have accused rice traders of being involved in price manipulation to justify the spike in retail prices of the grains.
"It is not true that the high retail price of rice was caused by the high farmgate price of palay as farmers have yet to harvest. The spike was caused by the rice cartel," Ramos said.
"The stocks are already in the warehouses. The retail prices of rice have increased because of the rice cartel," he added.
For her part, Estavillo noted that the farmgate price of palay in Mindoro, Iloilo and Isabela was only at P21 per kilo.
"The P34 (per kilo) farmgate price of palay mentioned by traders was only part of efforts to condition the minds of the public that the retail prices of rice could reach as high as P60 per kilo," Estavillo said.
"This (spike) of retail prices was due to the price manipulation of traders and importers," she said, explaining that the Rice Liberalization Law or Republic Act 11203 allowed traders to control the retail prices of rice in the market.
Rising palay costs
A majority of rice traders in Intercity Industrial Estate and Golden City Business Park in Bocaue, Bulacan have temporarily stopped procuring palay stocks due to its rising cost that translates to higher commercial rice prices.
Rice trader Tony Santos told The STAR that many of his colleagues have ceased buying palay prices at P33 to P34 per kilo since this caused wholesale rice prices to reach P2,600 per 50-kilo sack or P52 per kilo plus mark-up prices of the retailers.
Broken grain rice is now being sold at P2,050 per 50-kilo bag or P41 per kilo, Santos noted.
Wholesale rice trader Malou Tolentino cited that many of their colleagues are now having a hard time selling the staple grain that costs more than P50 a kilo.
"Many of them are apprehensive that rice prices may nosedive if the local market is bombarded with imported rice," she added.
However, traders with depleted rice stocks take the risk and are forced to buy palay stocks at P34 per kilo that translate into P2,600 wholesale price of a 50-kilo bag of rice.
Because of this situation, Tolentino noted that rice traders are now opting to buy palay at a slow pace.
Roderico Sulit, another rice trader, cited that the current high price of unhusked rice causes the price of the staple grain to be unsellable to the consumers.
"September is almost here, there may be farmers who will harvest one at a time," he said.
https://www.philstar.com/headlines/2023/08/15/2288754/da-inspect-rice-warehouses-hoarding
Published Date: August 14, 2023
More News