DA: Rice supply enough even during lean months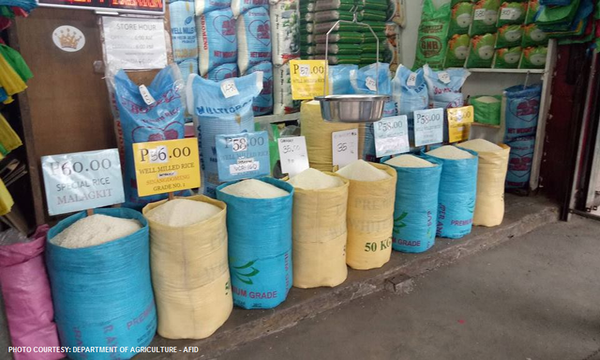 Metro Manila (CNN Philippines, May 25) — The Department of Agriculture (DA) on Thursday said it is confident that rice supply in the country will be enough even during the lean months of July to September.
"If we are going into the lean months and we have a good buffer of about 60 days plus the production during that period and then import arrivals so I think we are confident that we will have a good supply for the lean months," DA Undersecretary Leocadio Sebastian told CNN Philippines' The Source.
Earlier, agricultural groups warned of a looming rice crisis due to the El Niño phenomenon this year, which is projected to emerge beginning June.
Sebastian said the DA has so far recorded 1.48 million metric tons (MT) of imported rice and a carryover stock from last year of around 1.8 million MT. The agency also expects 5.7 million MT in total local harvest from January to June.
"Malaki 'yung ating projected na (We have a big projected) supply for the first six months, and we are expecting we will have at least remaining stock by end of June that will be good for about two months," he pointed out.
President Ferdinand Marcos Jr., who is also agriculture secretary, said in April that he sees no rice crisis in the country, but the option to import should always remain open.
One of the chief executive's campaign promises was to bring down the per kilo price of rice to ₱20. Marcos said in March that the government hopes to achieve this "as soon as possible" despite hurdles, like the weather.
Past and present government officials have said it may be difficult to achieve this immediately due to funding issues and situation in the market.
According to Sebastian, lowering the price of rice is possible, but it should be market driven.
"We are not going to dictate it, but what we can do is we can help our farmers reduce their costs, improve the value chain… para makita natin (so we can see) if our cost of production and the cost of the value chain will be lower baka pwede nating mapababa yung presyo, but ₱20 maybe mahirapan tayo doon (maybe we can lower the price, but ₱20 may be difficult)," he explained.
Latest government data showed the price of local commercial rice in Metro Manila markets ranges from ₱34 per kilo to ₱60 per kilo depending on the variant of local rice, and ₱40 to ₱58 for imported rice.
http://www.cnnphilippines.com/news/2023/5/25/DA-enough-rice-supply-lean-months.html
Published Date: May 25, 2023
More News