Consumers feel pinch of rice price surge: Jordan
'Most affordable food options are often the ones that are less healthy'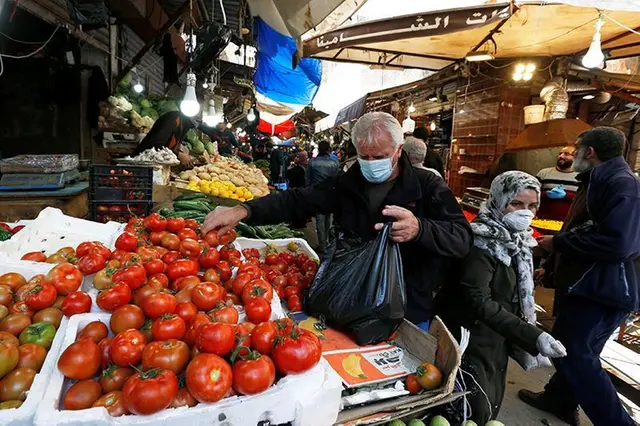 A man wears a face mask amid concerns over the coronavirus disease (COVID-19) as he buys vegetables in Amman, Jordan, April 12, 2020. Muhammad Hamed, Reuters
AMMAN — Rice prices in Jordan have surged by 5 to 6 per cent, leaving consumers and retailers grappling with the increase.
Yanal Barmawi, the spokesperson for the Ministry of Trade and Industry, attributed the price hike to a global decline in rice production, which has cast a shadow over the market's stability.
Notably, India, the world's largest rice exporter, imposed a ban on rice exports three months ago, which affected the whole supply chain, causing prices to climb steadily, according to Barmawi.
At that time, Jordan had ample rice reserves to meet local demand. However, over time, retailers have decided to pass on the increasing cost to consumers, leading to the current price surge, said Barmawi.
"The global decline in rice production has placed immense pressure on the rice market," added Barmawi.
Barmawi clarified that the ministry does not impose a price cap on rice and instead relies on the principles of supply and demand to govern market prices.
"The ministry's role is to closely monitor market prices to ensure fairness for consumers," he said.
Wafa' Abu Jbara, a homemaker, told The Jordan Times that she is witnessing a steady rise in prices for basic food items like vegetables, fruits, meat, eggs and rice.
"It's becoming increasingly challenging for ordinary families to afford nutritious meals. The price increases seem relentless, and it's disheartening to see that the most affordable food options are often the ones that are less healthy," Abu Jbara added.
Abu Jbara noted that the vast majority of people are forced to compromise on nutrition due to the high cost of healthier alternatives. "This situation not only impacts our personal health but also raises concerns about the overall well-being of our community," she said.
"I hope that our government takes proactive steps to address these rising food prices and ensures that access to nutritious food remains a right, not a luxury," said Abu Jbara.
Nabeel Azouqa, owner of a restaurant in Amman, told The Jordan Times that the increasing prices of essential food items are not only affecting consumers but also the entire economy.
"The increase in prices is not compensated by an increase in wages; wages remain steady," added Azouqa.
He mentioned that the price increase is affecting the purchasing power of customers. "When the prices of rice increase, retailers have to pass on the increase to consumers, but for example, restaurant owners can compromise the well-known brand for a more generic brand of the food in return for stabilised prices, because consumers don't accept the idea of changing prices every month," said Azouqa.
https://www.zawya.com/en/economy/levant/consumers-feel-pinch-of-rice-price-surge-jordan-yt3db2c1
Published Date: October 10, 2023
More News