Chinese firm shares rice planting technology with Myanmar farmers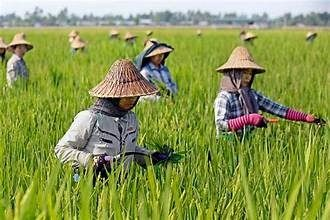 YANGON (Xinhua): A company from southwest China's Yunnan province has collaborated with Myanmar's Ministry of Agriculture, Livestock and Irrigation to hold a knowledge-sharing seminar for local farmers here.
The event was held at a demonstration farm of Yangon Region's Department of Agriculture on Tuesday, aiming at enhancing agricultural practices, boosting crop yield, and promoting green development in Myanmar, the event's organizers said.
About 50 farmers participated in the seminar held at the 30-acre demonstration farm on the outskirt of Yangon.
Speaking at the event, Fu Shaoxue, an executive of the Yuntianhua Group Co., Ltd., said that the collaboration on the establishment of a 30-acre demonstration farm would result in increasing Myanmar's agricultural production in the future.
U Win Naing, a manager of a 30-acre paddy demonstration farm in Yangon told Xinhua on Tuesday that the Chinese company shared ways to effectively use fertilisers and provided chemical fertilizers for his 30-acre demonstration farm for the monsoon season.
Chinese experts first made soil tests for his farm before providing fertilisers, Win Naing said. The Chinese rice planting technology proved effective and superior to local methods, he added.
"China's technologies are better than ours. They came to provide assistance and collaborate with us," he said, adding that local farmers have benefited a lot from the technology assistance and knowledge sharing.
Thant Zin Maung, an advisor of the Myanmar Rice Federation, told Xinhua that they were sharing farmers in the seminar with one of the good agricultural practices such as when to use fertilizers, how to use fertilizers, and what sorts of fertilizers should be used for boosting crop yields.
Hla Oo, an agricultural machinery importer in Myanmar and who is also an organizer of the seminar, said Myanmar and China have built a significant trade relationship. China's support in Myanmar's agricultural sector benefits farmers, the nation, and Chinese consumers.
Myanmar produces approximately 14 million tons of milled rice annually, with around 10 to 11 million tons consumed domestically and a surplus of 2 to 2.5 million tons exported to foreign markets. Ayeyarwaddy, Yangon, Bago, Mandalay, and Sagaing are the primary areas for rice cultivation in the Southeast Asian country.
Subscribe now to our Premium Plan for an ad-free and unlimited reading experience!
https://www.thestar.com.my/aseanplus/aseanplus-news/2023/08/09/chinese-firm-shares-rice-planting-technology-with-myanmar-farmers
Published Date: August 10, 2023
More News