Cereal crisis: Why government is rushing to tame rice, wheat prices
With inflation at a 15-month high due to rising vegetable prices, the government is taking all measures possible to control a looming cereal crisis.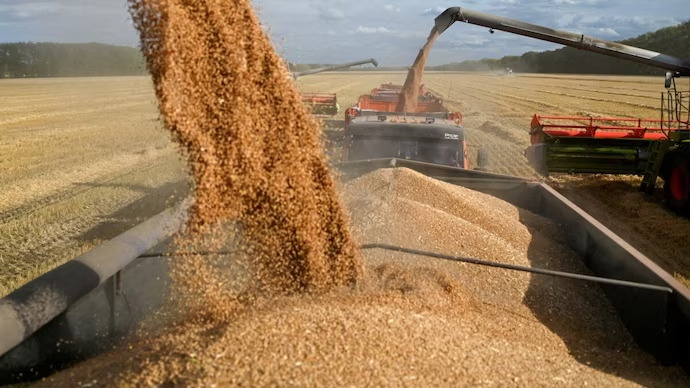 Retail inflation in India surged to a 15-month high of 7.44 percent in July due to a broad-based rise in food prices.
Rising inflation over the past few months, led by a surge in vegetable prices, has already put significant pressure on households. If that wasn't enough, there is another bigger threat lurking in the background: a shortage of cereals, especially rice and wheat.
The Cereal Crisis
Over the past few weeks, officials from the government have been scrambling to introduce fresh measures to shore up domestic wheat supplies in a bid to cool local prices, which surged to their highest in six months last week.
India had already banned wheat exports last year after a sudden rise in temperatures hit outputs.
At the time, export demand had also shot up due to a global shortfall triggered by the Russia-Ukraine conflict. Despite the ban on exports, wheat prices kept rising.
Trade and industry officials suggest that even this year's wheat output is lower than the government's estimates of a record 112.74 million metric tonnes.
Not Just Wheat
It's not just wheat prices that have witnessed a sharp rise over the past few months. Prices of rice have been on the rise as well, due to a shortfall in production. This prompted the country to ban exports of non-basmati rice, triggering a global shortage and crisis.
While India's move may have upset major wheat and rice importers around the globe, New Delhi's sole focus remains on curbing prices of essential food items to support the vast population, many of whom earn less than Rs 250 per day.
Why is the Government Concerned?
Prime Minister Narendra Modi, in his Independence Day address, said India has taken several measures to control inflation and is better positioned than most developed peers, but added a word of caution.
"India made all efforts to control inflation… We can't be content just because our situation is better than the rest of the world. I have to take more steps to see that the burden of inflation goes further down on the citizens of my country. We will take those steps and my efforts will continue," PM Modi said.
His statement came just a day after India's retail inflation surged to a 15-month high of 7.44 percent, primarily driven by food prices.
Economists and even the Reserve Bank of India (RBI) expect inflation to remain elevated over the next couple of months due to the impact of erratic weather conditions and the El Nino phenomenon on crop production.
This could pose a worry for the ruling BJP-led NDA government, with the upcoming general election in 2024. In addition, some key state assembly elections are also coming up, and the BJP would be keen to retain power in some of the big heartland states.
Historically, rising inflation has often been a major issue that has even dethroned governments. In fact, even a moderate rise in food inflation that accounts for nearly half the overall consumer price basket has been known to make voters nervous – something that can be utilized by opposition parties to mount an attack on the ruling government.
It was not just corruption but persistently high inflation that led to the downfall of the Congress-led coalition government in 2014, paving the way for the BJP-led NDA to come to power.
This is why the government has been on overdrive recently to tackle rising rice and wheat prices, in addition to subsidizing prices of other kitchen staples like tomatoes, following a 1,400 percent surge in wholesale prices, resulting in a more than 300 percent increase in retail prices.
Nevertheless, the government is more concerned about controlling the prices of wheat and rice, which are the most common staples in Asia's third-largest country.
Does India Have Sufficient Stocks?
With a vast population of poor people, the government in April 2020 started providing free wheat to millions of beneficiaries during the peak of the coronavirus pandemic.
It was a move that helped many poor households survive the deadly pandemic after having their source of income cut off. But this free distribution of grains dealt a blow to the government's food stocks and was further aggravated by lower output in 2022 and 2023.
The slower replenishment of food inventories in state warehouses and a constantly growing population indicate that the stocks may be stretched.
As of August 1, wheat stocks at government warehouses stood at 28.3 million metric tonnes, which is higher than last year's 26.6 million but much lower than the 10-year average of 35.3 million tonnes.
To meet the ongoing shortfall and rising prices, the government recently offered 5 million metric tonnes of wheat to bulk consumers such as flour millers and biscuit makers to calm prices.
This has further reduced stocks at government warehouses. According to trade estimates quoted in a Reuters report, India needs to import at least 3 to 4 million metric tonnes of wheat to plug the deficit.
For this, the government could explore dropping or lowering the 40 percent import tax on wheat to help flour millers. However, if India imports wheat, it could drive up global prices and make overseas purchases expensive for private traders.
In such a scenario, the government has the option of importing wheat from top producers such as Russia via government-to-government deals.
Given the dynamic nature of the rise of essentials like wheat and rice, it won't come as a surprise if the government takes some drastic measures to cool down prices, especially as it gears up for the all-important general elections next year."
https://www.indiatoday.in/business/story/cereal-prices-rising-inflation-rice-wheat-government-measures-2421421-2023-08-15
Published Date: August 15, 2023
More News