BRIN cooperates with companies to develop pest-resistant rice variety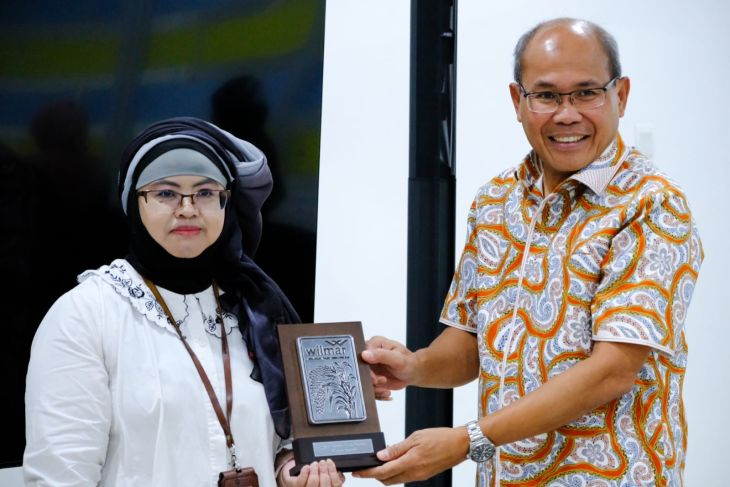 Head of BRIN's Genetic Engineering Center Ratih Asmana Ningrum (left) received a souvenir from PT WPI's Rice Business Head Saronto after outlining cooperation for development of the Wigenta rice seed variety in Bogor, West Java, Wednesday (May 24, 2023). (ANTARA/HO/WPI/FR)
The prosperity of farmers became one of the keys in improving food productivityJakarta (ANTARA) – The National Research and Innovation Agency (BRIN) established cooperation with seed producers to develop a high-yielding rice variety Witagen that is resistant to pests.
Head of BRIN's Genetic Engineering Center, Ratih Asmana Ningrum, noted in a statement, Thursday, that the cooperation is expected to help in increasing the number of options for high-quality rice seeds.
This can support national food security in addition to helping the agriculture sector to better handle the impacts of climate change.
"We expect that this seed (variety) will be beneficial for farmers in the provision of superior seeds and will certainly be beneficial in strengthening domestic food security," she noted.
The memorandum of understanding (MoU) for cooperation was inked by BRIN, PT Wilmar Padi Indonesia (WPI), and Syngenta on April 12, 2023.
Under the scope of the MoU, activities that will be conducted include selecting superior seed varieties that can adapt to the environment in Indonesia.
Also being conducted are research and development in genetics, rice seed testing and evaluation, field test as well as production and distribution of superior rice seeds produced through cooperation with farmers.
According to PT WPI's Rice Business Head Saronto, the use of superior and quality seeds is one of the factors supporting success in rice farming.
The development of new varieties is expected to contribute in improving farmers' prosperity and strengthening national food security.
"The prosperity of farmers became one of the keys in improving food productivity," he noted.
Development of the Witagen variety is a food cultivation strategy amid the challenges of climate change.
The phenomenon poses a major challenge to rice farmers, such as in the form of the emergence of attack patterns from disease pests that are hard to predict and erratic rainfall.
This causes a decline in productivity due to rice varieties that are vulnerable to attacks from disease pests and plants dying due to extreme weather.
"Farmers should be assisted based on their needs, so that their productivity improves," Saronto noted.
Echoing this statement, Syngenta Indonesia's Seed Business Head Fauzi Tubat stated that the use of quality seeds is one of the keys to success in plant cultivation.
"Through this cooperation, we are committed to providing quality rice seeds for farmers to improve rice productivity in Indonesia," Tubat noted.
https://en.antaranews.com/news/282855/brin-cooperates-with-companies-to-develop-pest-resistant-rice-variety
Published Date: May 25, 2023
More News