Bangladesh to attain Aman rice acreage target: officials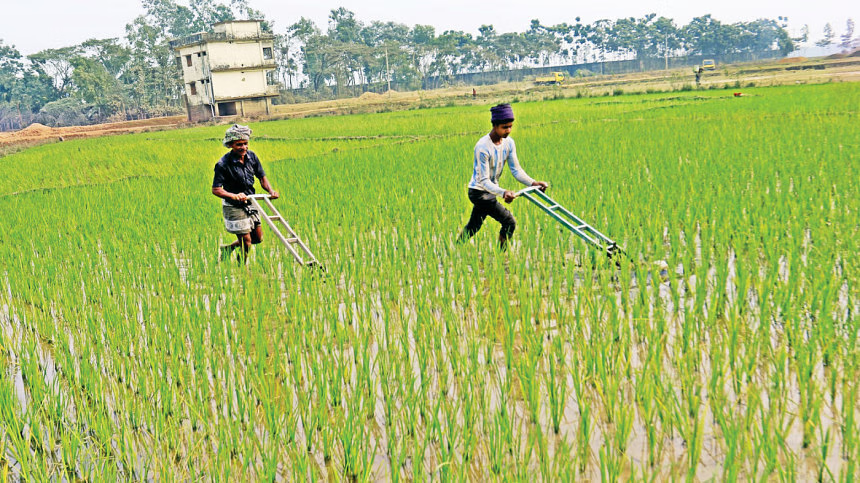 Farmers in Sylhet's Gowainghat upazila tend to their crops. The agriculture ministry aims to bag 1.71 crore tonnes of Aman rice this season. The photo was taken yesterday. Photo: Sheikh Nasir
Bangladesh is likely to achieve the cultivation target for Aman, the second biggest rice crop, to bag an increased amount of the grain and ensure domestic self-sufficiency amid volatility in the global market, said agricultural officials.
Farmers have transplanted and broadcasted the paddy on 58 lakh hectares until September 18 against the 59.3 lakh hectares fixed by the government, said Md Tajul islam Patwary, director general of the Department of Agricultural Extension (DAE).
The agency had set a goal to ensure transplantation of paddy on 56.5 lakh hectares this season and it could achieve 99.46 percent of the target. However, the rate of attainment of broadcasted Aman rice is much lower than transplanted crops.
Patwary said the rest of the target would be achieved as farmers in some parts of the haor areas in the northeast and southeast were transplanting the staple crop in couple of more days.
"We hope overall Aman cultivation area will exceed our target."
"We hope overall Aman cultivation area will exceed our target," he said over phone.
If achieved, the area of Aman crop will be higher than the acreage during the last Aman season.
Bangladesh bagged close to four crore tonnes (1 crore equals 10 million) of rice in the fiscal year 2022-23 and Aman rice, transplanted in August and September months, accounted for over 38 percent of total production, according to estimates by the Bangladesh Bureau of Statistics and the DAE.
The agriculture ministry aims to bag 1.71 crore tonnes of rice from the Aman crop, which will begin to be harvested in November.
"The field condition looks good so far," said the official.
The DAE's data projection comes after farmers could grow rice in fewer areas during the Aus season due to the late arrival of monsoon rains and a heatwave. Farmers grew Aus, another rice variety, on 10.54 lakh hectares, down from 10.60 lakh hectares the previous season.
Md Shahjahan Kabir, director general of Bangladesh Rice Research Institute, said increased production of every crop is vital in view of the lower crop prospects in India, Thailand and China.
"We are in a favourable position so far because of good production," he said, adding that agricultural agencies were encouraging all to take care of crops by providing supplementary irrigation in case of scant rainfall to ensure good yield.
Last month, the US Department of Agriculture (USDA) forecasted a decline in Bangladesh's overall rice cultivation area and Aman production.
Earlier this month, the USDA said global rice production forecasts were lower, with smaller crops in India, Bangladesh, Burma, and Thailand.
In July, India sent shockwaves through the world by banning the export of milled white rice. It took further measures in August, imposing export tax on parboiled rice and setting a minimum export price for basmati to contain its domestic prices.
https://www.thedailystar.net/business/economy/news/bangladesh-attain-aman-rice-acreage-target-officials-3422996
Published Date: September 20, 2023
More News