Amru Rice boost organic farming, cater to demand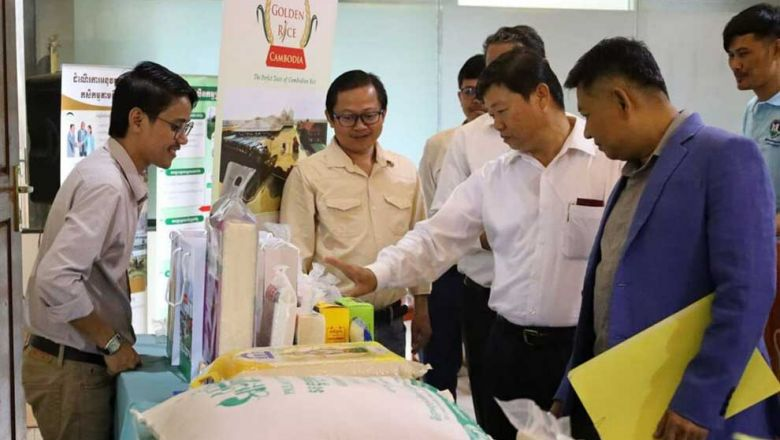 A recent organic rice exhibition by Amru Rice (Cambodia) in Phnom Penh. information ministry
AMRU Rice (Cambodia), the Kingdom's top rice miller and exporter, is ramping up its contract farming operations to cater to the growing global appetite for organic rice.
The company stated in a November 3 report that in partnership with the Cambodian Agriculture Cooperative Corporation (CACC), it aims to elevate smallholder farmers by significantly expanding organic rice production, a move that's already positively affecting over 10,000 farming households.
The firm said it has expanded its contract farming projects this year, extending their reach to cover almost all regions of the country.
According to the report, the scale-up included the northeast zone, particularly in Preah Vihear province, where Amru partnered with 35 agricultural cooperatives (ACs). The collaboration on organic paddy rice is set to benefit around 9,500 households, with the production of nearly 20,000 tonnes of organic paddy rice and an estimated 25,000 to 30,000 tonnes of organic cassava.
Amru said it has also secured contract farming agreements in the northwest zone, within Battambang province, with eight ACs and 47 producer groups, targeting a production of 16,000 tonnes.
In the upland zone, particularly in Mondulkiri province, the firm has finalised contracts to purchase 711 tonnes of organic paddy rice from five ACs and nine producer groups, a development poised to benefit 555 households.
The company said it has broadened its organic rice operations in the southwest provinces as well, collaborating with 12 ACs and 20 rice producer groups. The expansion is set to impact roughly 1,322 households, with the production of 5,094 tonnes of organic paddy rice valued at about $1.9 million.
It has invested in Phka Rumduol jasmine rice seeds, in partnership with the CACC, worth approximately $100,000, across Kampong Chhnang, Kampong Speu, Takeo and Kampot provinces.
The report detailed Amru's contract to purchase 4,000 tonnes of the sustainable rice, valued at approximately $1.8 million, from eight ACs and 35 production groups, engaging 1,085 farmers in Kampong Thom province.
As part of the Accelerating Inclusive Markets for Smallholders (AIMS) project, the company has entered into an agreement with the working group of ACs to buy 335 tonnes of Phka Rumdoul paddy rice from 16 producer groups in Kampong Cham province, as per the company statement.
"The fundamental principle of our model is to empower individual farmers by equipping them with the necessary resources, knowledge and support to succeed. Contract farming enables smallholders to access training, high-quality seeds, fertilisers and contemporary farming techniques," it stated.
Song Saran, president of Amru, told The Post on November 5 that the company has been engaged in contract farming for nearly a decade, enjoying substantial support from farmers in Preah Vihear for its organic rice initiative.
He highlighted the benefits to local farmers, including guaranteed pricing for paddy rice and the opportunity to earn premium prices by adhering to the standards set by the company.
"We've shifted their focus from subsistence farming to commercial agriculture. Concurrently, there's been an increase in quality. For us as an exporter, this ensures a stable supply chain for our international clients. Additionally, it allows us to contribute to sustainable development for society, the environment and our people," he said.
The CACC, a subsidiary of Amru Rice, in partnership with the World Food Programme (WFP), has launched the "Rehabilitation of Organic Agriculture for Smallholder Farmers in Mondulkiri" project, the report stated.
The initiative, funded by the Global Agriculture and Food Security Programme (GAFSP) of the World Bank, along with additional resources from the CACC, has allocated nearly $3 million for the construction of a rice mill and drying facility.
The project aims to fortify ACs by integrating rice supply networks and enhancing the value chains of both organic and sustainable rice production (SRP). The initiative will directly benefit 600 smallholder farming households, of which 55 per cent are female farmers.
"Contracts with Amru Rice provide farmers with access to stable markets and the ability to command premium prices for their produce. This not only offers them financial security but also encourages long-term investment in their agricultural practices. [We are] deeply committed to environmentally sustainable practices," the company stated.
https://www.phnompenhpost.com/business/amru-rice-boost-organic-farming-cater-demand
Published Date: November 5, 2023
More News