Amid alarming food inflation: El Nino to suppress wheat, rice, palm oil harvest in Asia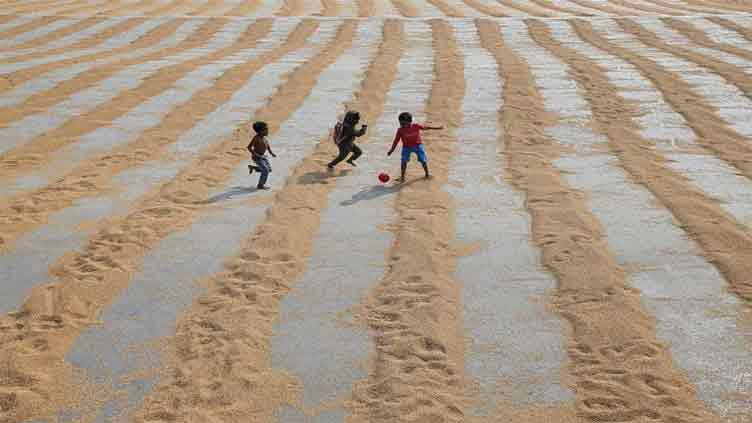 Reduced production by top exporters like Australia and India will disrupt supplies
SINGAPORE (Reuters/Web Desk) – An unusually dry August has taken a toll on cereal and oilseed crops in Asia as El Nino intensified, and forecasts for lower rainfall in September are further threatening to disrupt supplies, says Reuters in a report.
While wheat output forecasts are being revised lower due to dry weather in Australia, the world's second largest exporter, record-low monsoon rains are expected to reduce the volume of crops, including rice, in India, the world's biggest shipper of the grain, meteorologists and analysts said.
Insufficient rains in Southeast Asia, meanwhile, could dent supplies of palm oil, the world's most widely used vegetable oil, while extreme weather in top corn and soybean importer China is putting food output at risk.
The report comes as the world is already dealing with record-high inflation, especially food prices, which means ensuring food security has become the main challenge for many nations, especially in the Global South.
Pakistan too is among the countries grappling with the crisis amid rising prices of commodities – both food and non-food – as a depreciating rupee, now at a record level against the US dollar, has made the imports even more expensive.
And any reduction in supply would only worsen the situation around the world due to the resultant increase in food prices.
"We are in full-blown El Nino weather in several parts of the world and it is going to intensify towards the end of the year," said Chris Hyde, a meteorologist at US–based Maxar Technologies, a climate data analytics platform.
"The weather pattern in Asia will correlate with dry El Nino conditions."
El Nino is a warming of Pacific waters which typically results in drier conditions over Asia and excessive rains in parts of North and South America.
LACK OF RAINS IN INDIA, AUSTRALIA
India's monsoon rains, crucial for summer crops such as rice, sugarcane, soybeans and corn, are poised to be the weakest in eight years.
"The impact of El Nino is much greater than we had anticipated," said a senior India Meteorological Department official. "This month is going to end with a deficit of over 30%, marking it as the driest August on record. El Nino will also affect September's rainfall."
India, which accounts for 40 per cent of global rice exports, has curbed shipments, lifting prices to 15-year highs.
Australia's wheat output estimates are being revised lower by analysts for the first time in four years as key growing areas have had insufficient rain in August.
"Wheat production is going to be three million (metric) tons lower than our initial estimate of 33 million tons," said Ole Houe, director of advisory services at agricultural brokerage IKON Commodities. "If the dryness continues in September, we are looking at an even lower crop."
Australia has had three straight years of bumper wheat output, boosting supplies for importers such as China, Indonesia and Japan.
TROPICAL SOUTHEAST ASIA HIT BY DRYNESS
Rice, palm oil, sugarcane and coffee crops have received lower-than-usual rainfall in Southeast Asia, with Indonesia and Thailand the worst hit.
"Eastern parts of Indonesia and much of Thailand has had very little rain in the last 30 to 40 days," Maxar's Hyde said.
"In these areas, precipitation has been 50pc to 70pc of average. Most of September is going to be largely below normal rains in Thailand and Indonesia."
In the United States, corn and soybean crops have suffered in recent weeks due to dryness, although the weather is not associated with El Nino, said Drew Lerner, president of World Weather Inc.
From November to February, however, US farms will see a bigger impact from El Nino with above-average precipitation in southern states, benefiting winter wheat, Lerner said.
South American weather is expected to be crop-friendly for soybeans and corn which will be harvested early 2024.
https://dunyanews.tv/en/Business/751223-Amid-alarming-food-inflation:-El-Nino-to-suppress-wheat,-rice,-palm-oil-
Published Date: August 30, 2023
More News