Agricultural technology helps ramp up rice growth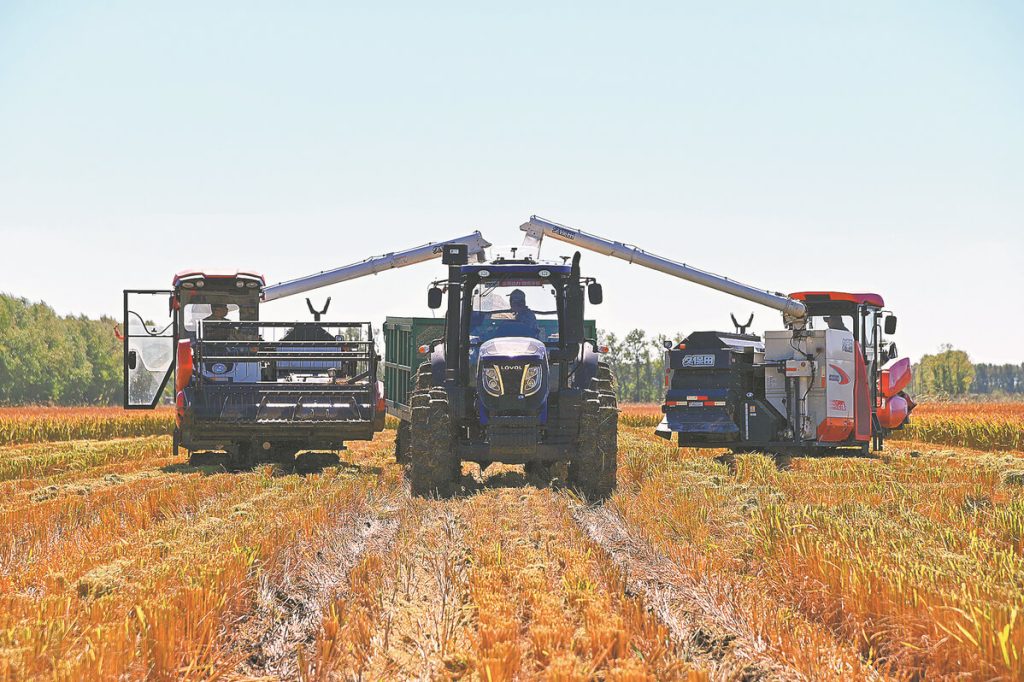 Farmers for the No 290 Company of Beidahuang Agricultural Reclamation Group use a tractor and reaping machines to harvest rice in Heilongjiang province. XU LEI/FOR CHINA DAILY
Advanced agricultural technologies gave Ren Fengjiu good growth and a high yield on his 40 hectares of rice this year.
Last month, Ren, a farmer for the No 290 Company of Beidahuang Agricultural Reclamation Group, a State-owned enterprise in Heilongjiang province, harvested around 400 metric tons of rice with the help of agricultural machinery.
"After three days of drying, the moisture content of the rice has reached the standard," he said. "All of my high-quality rice has been purchased by grain merchants for 2,740 yuan per (metric) ton."
Ren said he had anticipated the high yield when he planted in the spring. "I chose the strong, factory-prepared seedlings and followed the advice of the technical staff to purchase advanced fertilization equipment during the transplanting stage," he said. "With precise fertilization, my rice has shown good growth throughout all its stages."
The No 290 Company has 51,333 hectares of arable land, including 17,333 hectares of dry farmland for growing corn and soybeans.
In recent years, the company has been using cutting-edge technologies to promote the development of agricultural modernization.
It has built a modern agricultural demonstration area with an area of over 666 hectares and an intelligent factory seedling cultivation base. It has also established an integrated field comprehensive management system, a smart agricultural channel system, and 5G transmission and interconnection base stations.
The continuous application of unmanned agricultural machinery, various precise navigation devices and the internet of things have gradually replaced traditional manual control.
As early as the spring sowing stage, the No 290 Company began pushing for high yields. The factory-produced seedling breeding base has continuously provided high-quality seedlings and advanced technology to further improve the quality of the transplants.
While waiting for the rice seeds to germinate, farmers have stayed busy working in their greenhouses with new, fully automatic intelligent earth-covering equipment, which has helped them achieve a sowing coverage rate of over 85 percent.
"Compared with traditional manual operation, this technology can save 75 percent in labor usage and provide more smooth sowing," Ren said. "In the past, it would take me two to three days to complete the fertilization and covering operation, but now I can do it in one day with a remote control."
The company also increased its investment in modern agricultural machinery and equipment, such as unmanned rice planters equipped with the Beidou Navigation Satellite System, upgrading from traditional methods. It has purchased a cluster of large machinery from renowned companies, including Case, Claas and John Deere.
During the Spring Festival period, the company held a series of agricultural training courses to comprehensively improve farmers' techniques and help them develop new ideas on intelligent agriculture.
The company promoted a series of measures to make agricultural operations more scientific, standardized and technical, including introducing field monitoring and leafage diagnosis equipment, which collects measurements to scientifically replace subjective farming.
"With the help of the intelligent terminal analysis system, staff members can check how the seedlings in each area are growing," said Chu Changming, director of the company's agricultural technology center. "We can set automatic temperature and water controls, adjust acid levels and launch other operations during the whole process, which can help maintain seedling growth in the best environment."
The company has also witnessed progress after years of efforts to protect black soil.
"In recent years, we have increased testing of a new fertilizer based on biochar (a form of charcoal) on the farm," Chu said. "According to the different needs of rice growth cycles, we have also introduced organic fertilizer products from well-known domestic manufacturers and tried to replace the most suitable organic fertilizer for local soil.
"In the past, we mainly used urea, diamine and potassium sulfate to fertilize rice," he said.
"Now we have promoted organic fertilizer after many years of experiments and dynamically updated the optimal fertilizer species, which can increase the organic matter content of black soil and significantly improve soil properties."
Ren, the farmer, emphasized the impact that the new technology has had on agriculture.
"The old generation of farmers had to rely on the weather for farming, but now we can rely on the advanced technology to improve efficiency, and on cutting-edge agricultural techniques to increase yields," he said. "New farmers in our operation have enjoyed the benefits of modern agricultural development and the transformation and upgrading of intelligent agriculture."
https://www.chinadaily.com.cn/a/202311/15/WS6554271ba31090682a5ee325.html
Published Date: November 15, 2023
More News