Biofortified rice harvested in Region Six to bring relief to farmers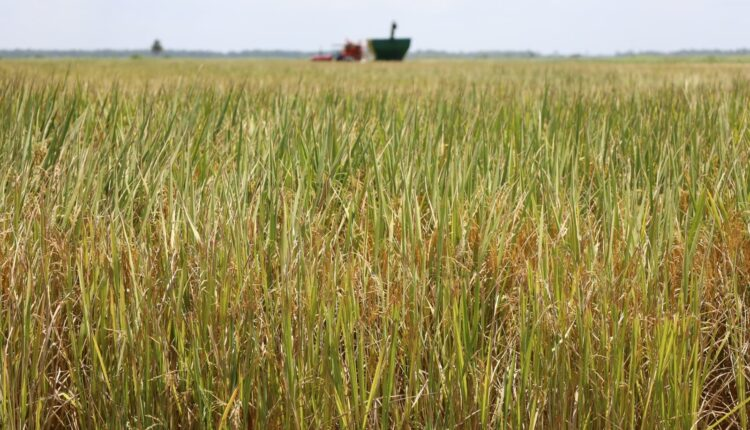 While increasing food production in the agriculture sector is in line with plans to be sustainable and resilient, the bio-fortified rice variety with nutritionally enhanced Zinc, which is anticipated to provide farmers and Guyana with enormous relief, was harvested on Saturday.
This significant project forms part of an effective partnership between the Guyana Rice Development Board (GRDB), the Inter-American Institute for Cooperation on Agriculture (IICA), Fondo Latinoamericano para Arroz de Riego (FLAR), CARICOM, among others.
The ceremony was hosted at Karmananda Basdeo's plot at Lesbeholden, Black Bush Polder, Region Six.
Minister of Agriculture, Zulfikar Mustapha underscored this variety of rice will provide various opportunities to the farmers given that the variety's nutritional value exceeds that of conventional rice.
He emphasised the significance of this new type for the general public, farmers, and the nation.
"We are launching a variety of rice that will shortly become an official variety for farmers in our country so that they can cultivate it. This variety of rice will attract preferential prices around the region and different parts of the world."
Minister Mustapha added that this undertaking was made possible due to the investments made over time to equip the GRDB's rice research facility with the relevant facilities.
Guyana was chosen to conduct this trial due to the research station's excellent performance and the government's obvious desire to revive the agriculture industry.
Minister Mustapha further revealed that this candidate type has a stronger tolerance to climatic conditions seen in the country, noting the effects that climate change continues to have on the agriculture industry internationally.
Over the years, there has been unparalleled growth in the agriculture sector due to the implementation of transformative projects.
Meanwhile, IICA's Country Representative, Wilmot Garnett noted that IICA will continue to support the work of GRBD, biofortified rice, and other projects financially and with their technical expertise.
"In 2019, we made the decision to do this work in the biofortified rice. We are very pleased to go back to the Caribbean week of agriculture this year in the Bahamas to highlight that we have that…the importance is with your partnership," he said.
Director General of the Ministry, Madanlall Ramraj, GRBD's General Manager Badrie Persaud, and CARICOM's Programme Manager, Shaun Baugh also delivered remarks at the ceremony.
https://newsroom.gy/2023/09/03/biofortified-rice-harvested-in-region-six-to-bring-relief-to-farmers/
Published Date: September 3, 2023
More Farmers Place