27 September,2023
The Federal Ministry of Agriculture and the Abia State Agriculture Development Project, yesterday, distributed improved rice seeds and fertilizer to over 90 rice farmers in the state.
The ministry and the project had earlier trained the farmers on climate-resistance practices in yam, cassava, and rice production.
The project's acting manager, Nnenna Uche, handing over the items to the farmers in Umuahia, the state capital, said the gesture is aimed at improving the crop yield in the state.
Advising them to make judicious use of the items to improve their means of livelihood, she lauded the ministry for partnering the project to train and empower farmers in the state.
Uche also appreciated the governor, Alex Otti for finding her capable of naming the project, adding that under her watch it would deliver on its mandate successfully.
In their respective responses, some of the beneficiaries, Victoria Nathaniel, Eric Evulobi, and Moses Chikere assured that they would put the items to proper use.
They also commended both the ministry and the project for the training which they said had widened their knowledge of modern rice farming.
BUA Foods has informed distributors of its rice products that it would maintain prices of its BUA Rice to support efforts at making rice more affordable in Nigeria.
According to a statement by the company, this is due to the strong sales potential from the company's newly upgraded 200,000tonnes per annum rice mill in Kano using locally sourced rice paddy.
According to the company, this decision to maintain prices is as a result of the little reliance on FX for rice production. Prior to the BUA Foods business integration which saw its listing in 2022, the BUA Group Chairman,
Abdul Samad Rabiu, had stated that BUA's goal would be to focus areas where raw materials can be sourced locally across all its business areas including rice in order to promote food security in Nigeria and support the government in National development.
According to a key distributor in Kano, he said distributors were excited by this development and were sure that BUA Foods in its usual fashion would crash the rice prices further as it had consistently done with its other food products like flour, sugar, and pasta.
King Norodom Sihamoni has provided four tractors and donated $5 each to farmers of Popel commune in Kampong Chhnang province to speed up their paddy cultivation during the rainy season.
The King also distributed 25kg of rice noodles and other daily essentials, including canned fish and fish brine, to 234 families of the Popel commune in Boribor district of Kampong Chhnang province. The children also received a surprise Royal gift of $2.5 each.
Kong Sam Ol, Deputy Prime Minister and Minister of the Royal Palace, handed over the tractors as he visited the farmers on behalf of the King to monitor the progress in farming.
Sam Ol, also the representative of the King, shared the details of the King's assistance to the struggling farmers of Popel commune.
Sam Ol said that the King's humanitarian gesture will help the farmers who have started ploughing the fields in a slow pace to speed up their work and it will make their cultivation easier than before. The donation of tractors and money shows the King's thoughtfulness to improve the lives of the poor people.
Popel commune chief Chea Sobon said yesterday that the King always assists the farmers and other communes in Boribo district had already benefitted from the tractors the King had provided them.
Sobon said, "Farmers in Popel commune are grateful to the King for providing them with tractors as it will speed up their work by 60 to 70%. Previously they were using cattle to plough their paddy field. Once the ploughing is done, the tractors will be sent back to the Royal Palace."
Thanking the King for providing tractors, Thoeun Saroth, 36, said that it will benefit the families who have been struggling without cattle to plough their rice fields. Some farmers take tractors on rental basis to speed up their farm work.
"I want to thank both the King and Kong Sam Ol for helping farmers in Popel commune. I wish the King long life and prosperity," she added.
Farmers in Kyondoe Township Under Pressure: Restrictions on Rice Planting near Military Areas
During this year's planting season, local villagers have reported that the Light Infantry Battalions 545 and 546, based in Kyondoe Township, have issued orders to halt rice cultivation in the farmlands surrounding the villages where the military is stationed.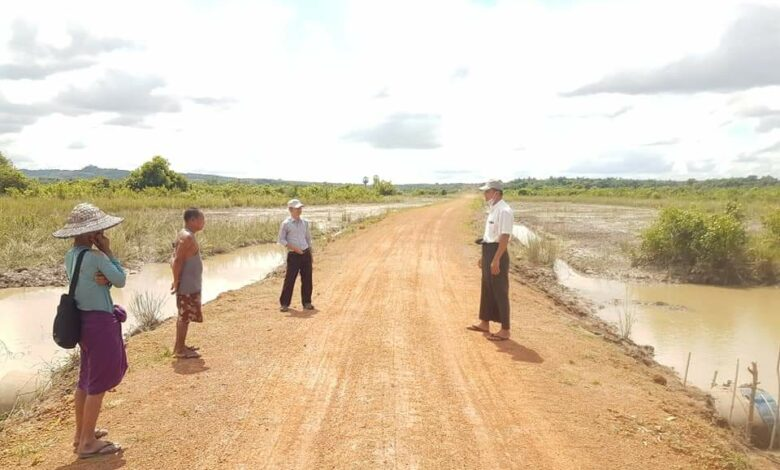 Furthermore, it has been mandated that only a maximum of three individuals are permitted to be present at the workplace, despite the allowance for cultivation in other areas.
A Kawtwarle villager, who did not wish to be named, said, "The military has ordered that no fields should be planted near Kawtwarle village and the 545/546 battalion. If people still want to plant, they can only do so in groups of three or less.
This makes it difficult for us to grow rice. The military has occupied schools in the villages, and they are hiding outside the village near the rubber farm, which prevents people from going out to work. Trenches have been dug along the Gyaing River, Haungthayaw River, and the path from Kawtwarle to Naungtaman, Ka Toot Min Pagoda, causing fear among the villagers and making them hesitant to go anywhere."
The villagers of Kawtwarle have reported that the military has issued orders prohibiting rice cultivation in the village farms this year. The purpose behind this directive, as stated by the villagers, is to prevent the revolutionary joint forces from ambushing, attacking the Kyondoe-based Light Infantry Battalion 545/546, and launching drone-based bomb attacks from the farmlands surrounding the battalion.
Currently, residents have reported that artillery shells are being fired from two military camps, targeting the villages in Kyondoe on a daily basis, both during the day and at night. As a result, the residents have expressed that no one has returned to their village from the internally displaced persons (IDP) camp due to the ongoing shelling.
A resident of Naungtaman village said, "Artillery shells were fired on both the east and west banks of Kyondoe, causing destruction to houses. Thankfully, there were no people present at the time, otherwise, they would have been in great danger. Considering the situation, I feel compelled to look back at my village and constantly return to the place where I sought refuge from the war. It has become challenging to engage in farming or planting, making it difficult to sustain a livelihood in the long term."
As of now, it has been reported that the military has destroyed and blocked the roads connecting the villages of Kawkareik and Taungkyarinn. This action has resulted in the disruption of rural-urban transport links, preventing the free movement of people and goods between these areas.
The residents of Kawkareik/Kyondoe have reported that soldiers hiding along the roads leading from the village to the town, combined with ongoing combat operations, have caused significant challenges in accessing food, shopping, healthcare, and education services.
Peasant group Kilusang Magbubukid ng Pilipinas (KMP) denounced the National Food Authority's (NFA) proposal to import at least 330,000 metric tons of rice in hopes of addressing the projected shortage in local rice production.
For KMP, the national government's solution heading towards this projected deficit should not be to import but to support local farmers instead.
"The first order of the Department of Agriculture and NFA should be to help farmers increase their productivity to achieve targeted rice production and augment the rice buffer stock," said KMP Chairman Emeritus Rafael Mariano in a press statement on Friday, April 14.
To provide context, Malacañang on Thursday, April 13, said NFA is proposing this scheme to "cover an expected deficit in the country's buffer stock for the relief operations of various agencies in the event of calamities this year."
Farmers sun-drying palay (Photo courtesy of KMP)
"The NFA pushing for rice importation is a great disservice to farmers and Filipinos," Mariano said, adding that this proposal opposes the administration's declaration that the domestic rice supply is sufficient.
In order to boost the Philippine rice industry and help alleviate the suffering of small-scale Filipino farmers, KMP urged the administration to increase local palay procurement to at least 20 percent.
"The NFA must regain the upper hand in buying and selling of rice to influence rice retail prices that are now heavily manipulated by rice traders and importers," Mariano furthered.
BENEO's rice ingredients production site in Wijgmaal, Belgium, has changed the long-term working life of more than a hundred small-scale farmers in Laos thanks to the provision of harvesting and threshing machinery. This investment reflects BENEO's commitment to its stakeholders throughout the supply chain and has enabled the business to strengthen its farm-level partnerships even further.  
As the primary economic activity in Laos, small-scale rice farming accounts for 70 percent of the total cultivated area and one-fifth of the total GDP. BENEO liaised with its longstanding partner IDP, the leading producer and supplier of rice in Laos, to find out how working conditions for local farmers could be improved. As a result, eight harvesting machines and four threshers were purchased to help ease workloads and improve field yields.  
Whilst BENEO retains full ownership of the equipment, the farmers have been trained on how to use and maintain it to ensure the long-standing success of the project. The machines support 10 groups of 10 small-scale farmers. They help lighten the workload and speed up the harvesting process for them and their families by eradicating the need for hand cutting and manual threshing. With threshing now taking place directly on the field, this lowers the risk of loss caused by rainfall, as well as mould formation. As a result, the farmers can expect higher yields and better income. They can also earn additional money by renting out the machines to other farmers in the region, enabling many more families to benefit from BENEO's investment.   
Roland Vanhoegaerden, Operations Managing Director for BENEO's rice ingredients, comments:
"We value our long-term relationship with our farming and logistical partners in Laos. By liaising with IDP, we could quickly see where our investment would make the most impact. As a result of supporting our farmers with new equipment, more than 100 farming families have their everyday workloads eased. Also, by offering these economic resources to rice farmers we are helping to further work towards the UN's 17 Sustainable Development Goals (SDGs). Given the success of this initiative, we intend to launch another project of this type in the coming year to support more rice farmers."
Frédéric Jullien, CEO at IDP comments: "We are honoured that BENEO chose IDP to work with on this project. As a company, we are focused on assisting farmers in improving their work conditions whilst maintaining rice quality. BENEO's contribution has shown its commitment to the sustainable development of the rice value chain here in Laos."
Paddy coverage likely to cross 3.69 lakh acres mark in truncated SPSR Nellore district during rabi
Paddy transplantation going on at a brisk pace at Machavaram villlage, near Kandukur, in SPSR Nellore district. | Photo Credit: KOMMURI SRINIVAS
An increase in the prices of different varieties of paddy, due to an increase in the demand for super fine Nellore rice both from within and outside the State, has brought cheer among farmers in SPSR Nellore district.
MTU 1010 and NLR 34449 fetched an encouraging price of ₹15,000 to ₹15,500 per putti (one putti is equal to 850 kg).
After a grim situation a couple of seasons ago when farmers in the district were forced to go for partial crop holiday in view of the depressed market condition, the current hike in demand and price has brought the paddy cultivation back in favour of farmers during this winter.
"Facing hurdles in marketing paddy has become a thing of the past. There is no need for us to throng the Rythu Bharosa Kendras for market intervention and wait for payment for months together," said a group of farmers in Kovur village.
Progressive farmers, who went for low glycemic Telangana sona (RNR 15048), got a premium price of ₹20,000 per putti, said Andhra Pradesh Federation of Farmers' Association president Ch. Koti Reddy.
"Even if the moisture content is more than the 17% limit prescribed by the Food Corporation of India, traders procured the produce directly from farmers," he said.
During last winter, millers took 10% additional quantity due to more moisture content forcing them to part with paddy at as low as ₹12,000 per putti. "But thanks to the high demand at present, we can make good the losses incurred during last rabi," they added.
Conditions are favourable for achieving a paddy coverage of 3.69 lakh acres during rabi with Somasila brimming with water and improved market condition, according to Agriculture Nellore Joint Director G. Sudhakar.
"Transplantation of paddy seedlings has been completed so far in over 45,000 acres. NLR 34449 and BPT 5204 are the most preferred varieties," Agriculture Assistant Director A. Narsoji Rao. Paddy coverage in undivided SPSR Nellore district was 5.71 lakh acres during last rabi. Parts of paddy-growing areas have been merged with Tirupati district now.
Rice harvesting season often brings traffic accidents in rural areas, as farmers have little choice but to use roads to dry their paddy.
November 22, 2022
BANGKOK – Farmers in the northeastern province of Yasothon province are drying their rice harvest on an abandoned Royal Thai Army airbase runway in a bid to prevent road accidents.
At least 100 farmers from Loeng Nok Tha district are turning up each day at the disused airstrip with loads of freshly cut rice.
Rice harvesting season often brings traffic accidents in rural areas as farmers have little choice but to use roads to dry their paddy.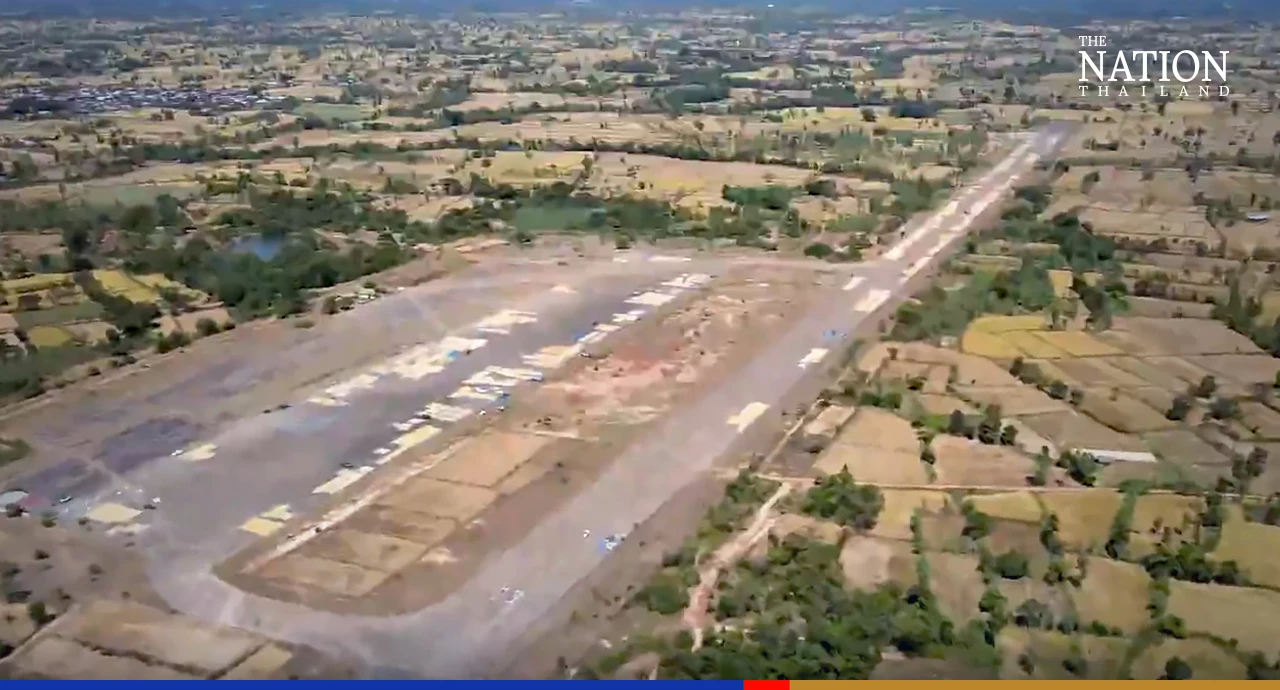 Farmers at the old airbase are reportedly guarding their drying paddy at night to prevent it from being stolen.
Prayad Samerphak, head of Ban Khok Samran village, said farmers in Loeng Nok Tha district were lucky to have an old airbase in the area.
The Loeng Nok Tha airbase was built with the help of the British in 1967 as Cold War tensions mounted in Southeast Asia.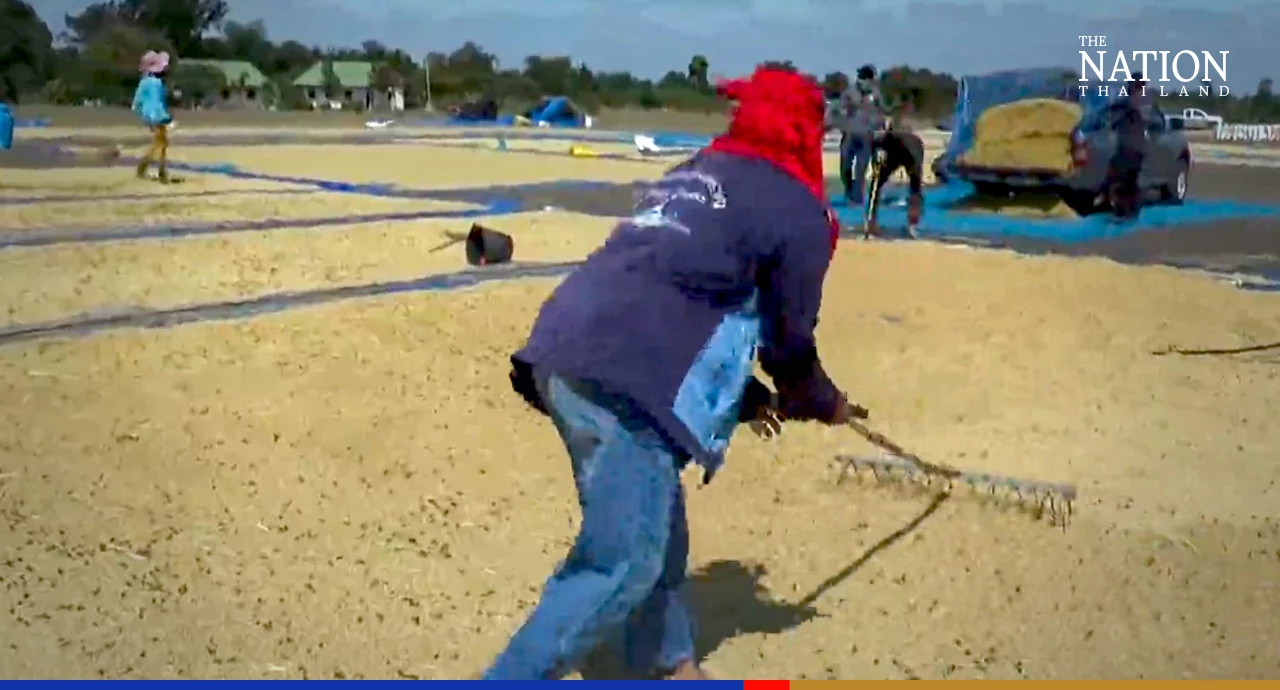 "Many farmers gather at the airport to dry their paddy during harvest season every year," she said.
She also thanked soldiers at the airport for allowing them to dry their rice crop for free.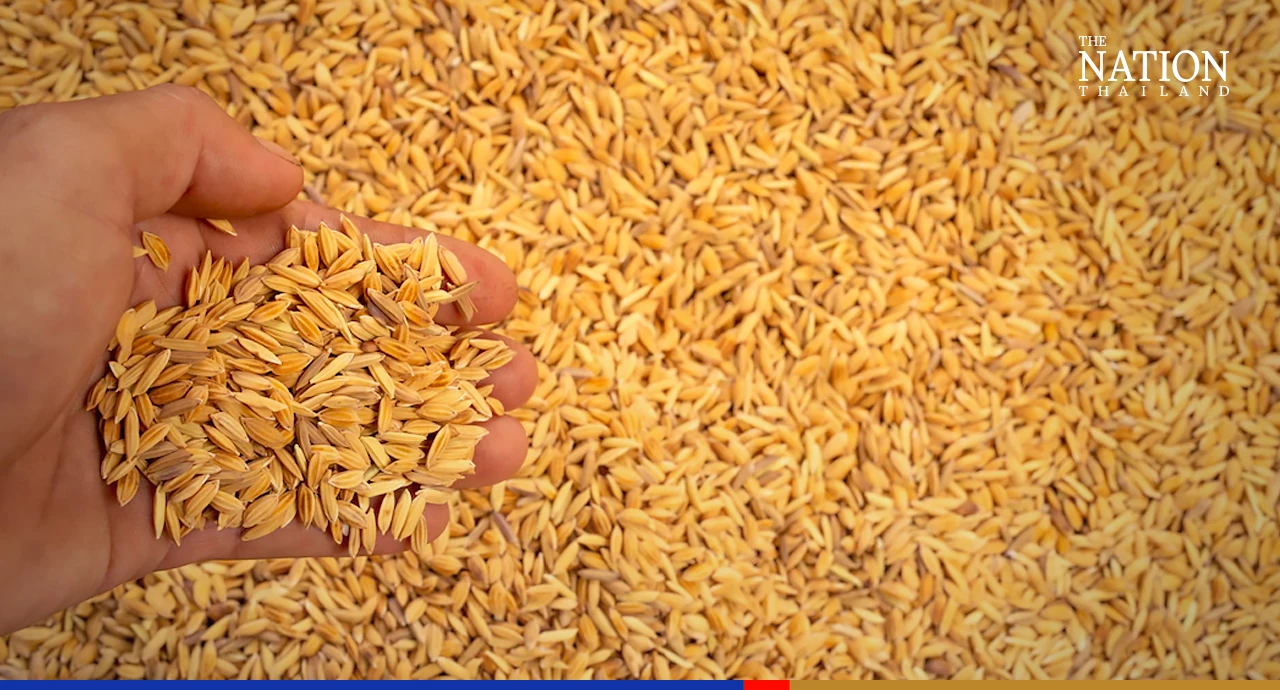 Deputy Director of Ambalantota Rice Research Institute Harshini Siriwardena said that the Institute has taken steps to release the A T 378 Sudu Kekulu new rice variety to the farmers.
A potential yield of 180 bushels per acre can be obtained through this new variety of rice which can be harvested in three and a half months. She also mentioned that the weight of a bushel of paddy is almost 21 kilograms. After a trial period of 13 years, this new rice variety has been cultivated by farmers in the Hambantota, Polonnaruwa, Anuradhapura, Matara, Galle, Ratnapura Districts and is suitable for cultivation in any region of the country.
As this type of paddy plant is strong and does not fall during natural calamities. Cooked rice is very tasty and rice-based products can also be prepared from this variety of rice.
Rice farmers from Mwea Irrigation scheme have vowed not to pay the Sh15,000 levies imposed by the Water Resource Management Authority terming it exploitative.
The farmers argue that the new regulations which were gazetted this year will increase the levies from the current Sh3,000 repair and maintenance fee paid to National Irrigation Authority to Sh15,000 Warma. If the new regulations will be fully implemented, the Authority is set to collect Sh450 million from the 30,000 acres under irrigation at the expansive Mwea Irrigation scheme. Led by their Chairman Morris Mutugi, the farmers have vowed not to pay a single cent to the authority, saying the regulations were published in the Kenya gazette secretly without proper public participation "The irrigation authority has failed on its mandate to ensure farmers have adequate water for irrigation as well as environmental conservation and has resulted in harassing farmers who fail to pay water levies," he said. Currently, Mutugi said, farmers are grappling with a lack of adequate water for irrigation due to the drought that the country is facing. "Where will farmers get such a huge amount of money, with the high cost of fertilizers, pesticides and other costs of production, this is exploitation," he said. Local leaders led by Mwea MP Kabinga Wachira have castigated the authority for continued burdening of farmers with punitive charges.
The government announced yesterday that it would "intervene" to support the price that farmers receive for their paddy rice, though without instituting a price floor or direct subsidies that would jeopardise a free market. Vongsey Vissoth, secretary of state at the Ministry of Economy and Finance (MEF), told representatives of the private sector and agricultural cooperatives that the government would take action to prop up the price that local rice farmers receive for their harvest. He said even though Cambodian farm-gate prices on paddy rice were cheaper than those of neighbouring countries, the price that farmers actually received for the paddy was very low. Moreover, the market price tends to drop off just ahead of the harvest, pressuring desperate farmers to sell their paddy at a slim margin. "Whenever the harvest season is approaching the price of paddy rice always slumps," he said. Chan Sophal, executive secretary of Farmers and Water Net, a Kampong Thom-based agricultural NGO, said rice was a challenging sector for farmers, even when they followed the government's guidelines on cultivation. "We cannot understand why local rice millers reject to buy our paddy rice from us, while brokers are ready to buy it," she said, adding that the brokers are able to purchase the paddy at a lower price because local millers reject to buy it. Cambodia produced about 5 million tonnes of surplus paddy rice last year, with an estimated 3 million tonnes exported through informal channels. Vissoth said poor infrastructure and high transport costs resulted in a high mark-up on rice paddy, though hinted that "price-makers" – including millers, brokers and traders – could be "playing with prices" to take higher profits at the farmer's expense. He said the government has already approved a $50 million package of low-interest loans to rice millers for purchasing rice paddy and has earmarked an additional $30 million to provide loans to millers for the construction of storage and drying facilities. The measures support Cambodian rice millers and exporters so that they can offer better prices to local farmers, he noted, but now the government will focus on supporting the farmers themselves. As part of a new initiative, the government will act as an intermediary in negotiating rice prices and will facilitate transport to help farmers lower their logistics costs. "Provincial governors and authorities will actively intervene in the market failure," he said. "Authorities will be responsible for keeping tabs on price-makers to ensure that the price they offer is fair to farmers, and also to provide assistance in transportation, building new infrastructure and preventing unofficial fees from being charged on transport." Vissoth said provincial authorities could dip into the provincial budget to provide these facilities to farmers, and should also provide free transport to help farmers get their rice paddy to local buyers or markets. "This is a short-term intervention in order to stabilise prices for farmers," he said. "The policy will put pressure on price-makers to raise the prices they offer farmers." Song Saran, CEO of rice miller and exporter Amru Rice, said he welcomed the government's announcement as it would address some of the factors that were depressing rice prices. "It is the right direction to address the real issues of the sector to prevent a market failure," he said, adding that reducing transport costs would improve margins. "We [millers] cannot control the price of paddy rice as it is based on the market's supply and demand," he added.
Authorities in the central Indian state of Madhya Pradesh deployed extra security forces in an attempt to quell violent farmer protests, as the agitation spread around the country. Protests expanded into Uttar Pradesh, Haryana and Maharashtra while farmers in Madhya Pradesh continued to demand loan waivers and higher crop prices. Demonstrators this week blocked roads and vandalized property, posing a major challenge to the local government, ruled by Prime Minister Narendra Modi's Bharatiya Janata Party. Farmers in other states, including Rajasthan, will join the strike in few days, said P. Chengal Reddy, chief adviser to the Consortium of Indian Farmers Association, arguing farmers should receive 50 percent profit over the cost of production of their agricultural crops and a loan waiver. "It's just a matter of time," said Reddy. "The agitation will spread to other states." The flare-ups worsened after five farmers were killed on Tuesday when police fired on protests that had turned violent in the Mandsaur district. Backtracking from his earlier claim, Madhya Pradesh Home Minister Bhupendra Singh,said on Thursday the farmers' deaths were caused by police firing. "The clamor for crop loan waivers appears to be spreading: Punjab, Karnataka, MP, Haryana and Rajasthan may join UP and Maharashtra in being forced to announce waivers," Credit Suisse said in a note released on Thursday. "While there may be a political aspect to farmers' protests too, rising agri debt when agri income growth is slowing is likely a supporting factor." Farmers' Demands Keeping a key election promise, the newly-formed state government in Uttar Pradesh decided to waive farm loans worth 363.59 billion rupees ($5.6 billion) for over 21.5 million farmers at its first cabinet meeting in April. Following the Uttar Pradesh's announcement of the waiver, some other state governments and farmers organizations have been demanding Modi to bailout loans through out the country. Read more: Bailouts Fail to Rescue India Farmers Trapped in Debt Spiral "Farmers should be freed from loans. They have already done it in Uttar Pradesh," a senior leader of farmer's group Rashtriya Kisan Mazdoor Sangh, Trilok Gothi, said by phone from Madhya Pradesh. "Our costs of cultivation have been rising and we should get 50 percent profit over our cost of production." Members of another farmer's organization, Bharatiya Kisan Union, were also planning a strike in India's north. "Our members have already started staging protests outside offices of district authorities in Haryana," senior leader, Dharmendra Malik, said by phone from Muzaffarnagar in Uttar Pradesh. Farmers are also getting support from some political parties. Congress vice president Rahul Gandhi and other senior party leaders were detained by police Thursday when they tried to make their way to the heart of the protests in Mandsaur, the Press Trust of India reported. Agriculture Minister Radha Mohan Singh on Thursday termed the agitation in Madhya Pradesh as "unfortunate." He said in a tweet that those "politicising" the issue were not concerned about the welfare of farmers. Meanwhile, officials in Madhya Pradesh said the situation was under control. "We have deployed enough force," deputy inspector general of police Avinash Sharma said by phone on Thursday. Prices of soybean, mustard and peanuts have dropped to a five-year low after production rebounded in 2016-17 on normal monsoon showers in 2016 that followed two years of drought, according to Solvent Extractors' Association. Wholesale prices of food grains including rice, wheat and pulses fell for four straight months through March and were about 10 percent lower compared with November, according to government data. Madhya Pradesh is India's biggest producer of oilseeds and pulses and No. 2 grower of wheat and corn, according to the agriculture ministry. While high levels of household debts have been recognized as a significant cause of farmers' distress, the use of unconditional debt relief to improve living conditions, crop productivity and to reduce suicides is controversial. About 52 percent of India's 90 million agricultural households are indebted. (Adds protests spreading to new states in second paragraph.) To contact the reporters on this story: Bibhudatta Pradhan in New Delhi at bpradhan@bloomberg.net, Pratik Parija in New Delhi at pparija@bloomberg.net. To contact the editors responsible for this story: Ruth Pollard at rpollard2@bloomberg.net, Atul Prakash
May 19, 2017 -
by Eric Schroeder
WASHINGTON, D.C., U.S. — China is expected to become a bigger export market for Cambodian rice, with reports suggesting China will import 200,000 tonnes of rice per year from Cambodia, according to a May 15 report from the Foreign Agricultural Service (FAS) of the U.S. Department of Agriculture (USDA).
The USDA said Cambodia's rice millers have shifted their attention to the expanding Chinese market in light of new rules in the European Union that have tightened the residue limit of tricyclazole on rice. Cambodian rice farmers commonly use tricyclazole to control rice blast fungus, but effective June 2017 the E.U. said it will implement a new threshold of tricyclazole residue for white rice — 0.01 mg per kg of paddy — and in December 2017 will implement a new tricyclazole residue level for fragrant rice — at 0.01 mg per kg.
"Amid rice millers' concern of the E.U.'s potential ban on Cambodian rice that fails to meet the chemical residue threshold, the government of Cambodia is looking into substitute options and raising awareness of farmers on proper usage of fungicides," the USDA said.
Cambodia exported a total of 542,144 tonnes of milled rice in 2016, up 0.7% from 2015. China was the largest destination, importing 127,460 tonnes, a figure that is forecast to grow to 200,000 in 2017, the USDA said. The increase in demand from China is expected to outpace the potential decline in demand from traditional E.U. buyers.
"Last December, China National Cereals, Oils, and Foodstuffs Corporation (COFCO) approved 18 Cambodian rice millers for exporting rice to China as part of an agreement signed between COFCO and the Cambodia Rice Federation (CRF)," the USDA said. "Additionally, the Ministry of Agriculture Fisheries and Forestry (MAFF) selected 28 rice millers who have demonstrated competence to meet the requirements for exporting rice into China. The CRF is urging the government to facilitate more access to the China market to offset potential decrease demand from E.U.
"The cross border rice trade is a vital pathway for Cambodia rice export into Thailand and Vietnam. However, Thailand's reduction in stock and a production recovery this year show no signs of an increase in import demand. Meanwhile, the cross border trade with Vietnam is robust mostly because of strong demand for Cambodian rice to serve local Vietnamese consumers who prefer quality fragrant rice."
Overall milled rice exports are forecast to increase 5% to 570,000 tonnes in 2017, and 8% to 615,000 tonnes in 2018, the USDA said.
Welcome to Rice News Today!
The access to our website is free and will remain free always for most of the contents.
However, you need to create a new account to access the website. It will not take much of your time to create a new account and you will have an access to your favorite website to browse rice news, quick stats, latest stats on basmati, downloads and a lot more at one-place!
Thanks & have nice rice news today exploring!
Login here